Earth Seeds
Free shipping on all AUS orders over $59.00
A blend of certified organic Hemp, Chia & Sesame seeds created to make eating for healthy hormones easy, convenient & delicious.

These seeds may be small but they have HUGE menstrual health promoting benefits! Just add a sprinkle of Earth Seed's cycle-loving protein, essential fatty acids & fibre added to any meal and you'll be on your way to healthier periods, clearer skin & better digestion in no time!

Serving Size: 30x Serves
Practitioner Formulated

100% Natural

Certificated Organic

Proven Support
Sprinkle 1-2tbsp of Earth Seeds over your breakfast, lunch & dinner. Add to salads, breakfast bowls, soups, smoothies, and eggs! Ingredients: Certified organic Hemp Seeds, Chia Seeds & Sesame Seeds
My Moonbox comes with a 100% happiness guarantee when you purchase the PMS & Cramps bundle and commit to daily implementation and support for 3 months. If you do the 3-step daily routine and implement the Masterclass strategies for 3 months and don't experience improvements in your menstrual health we will issue you a full refund. Why 3 months? Because this is the time it takes to reset your hormones and lay foundations for real, lasting improvements in your menstrual health to take place. There is no such thing as a quick fix when it comes to your periods. It's a life-long partnership!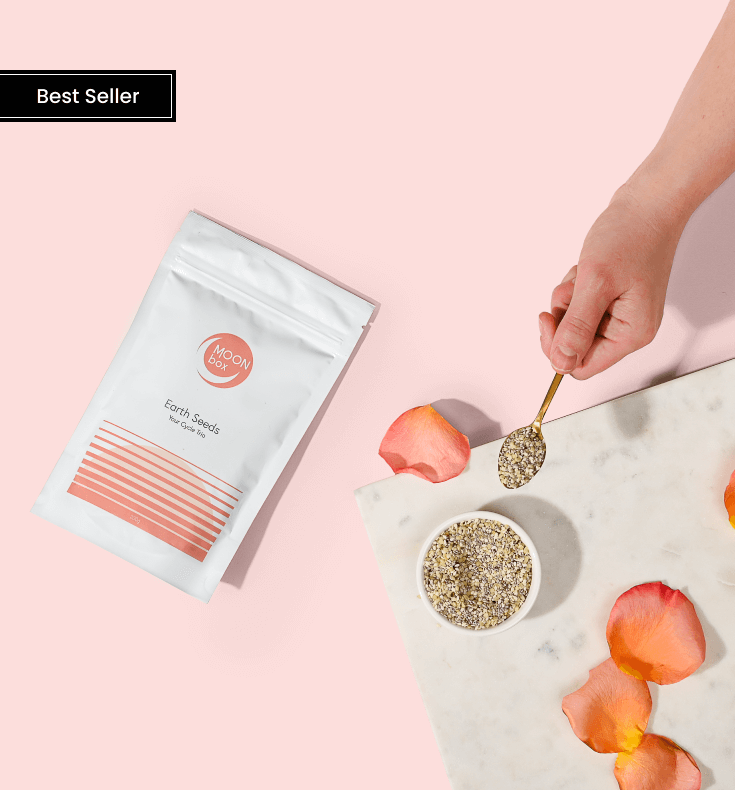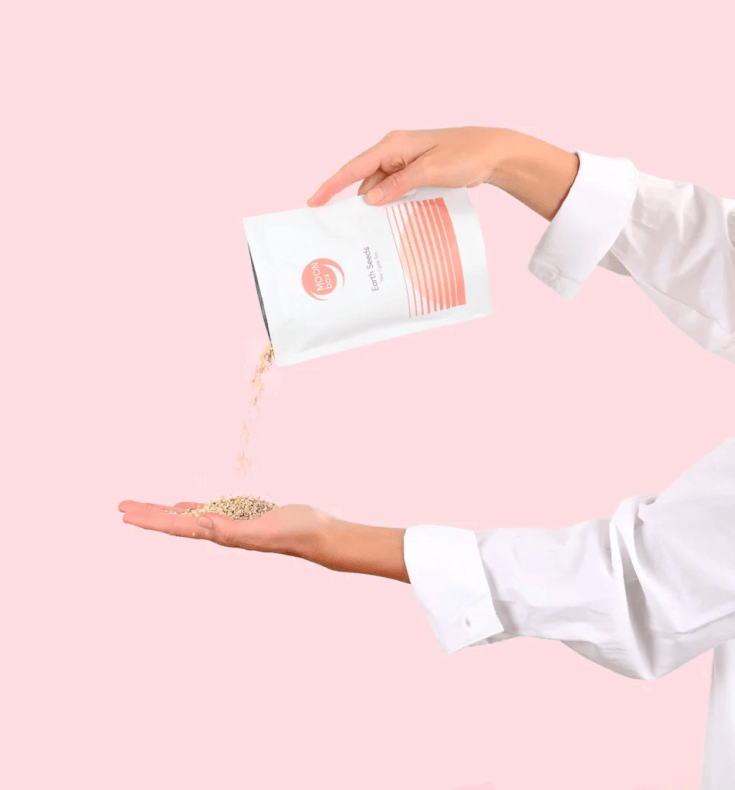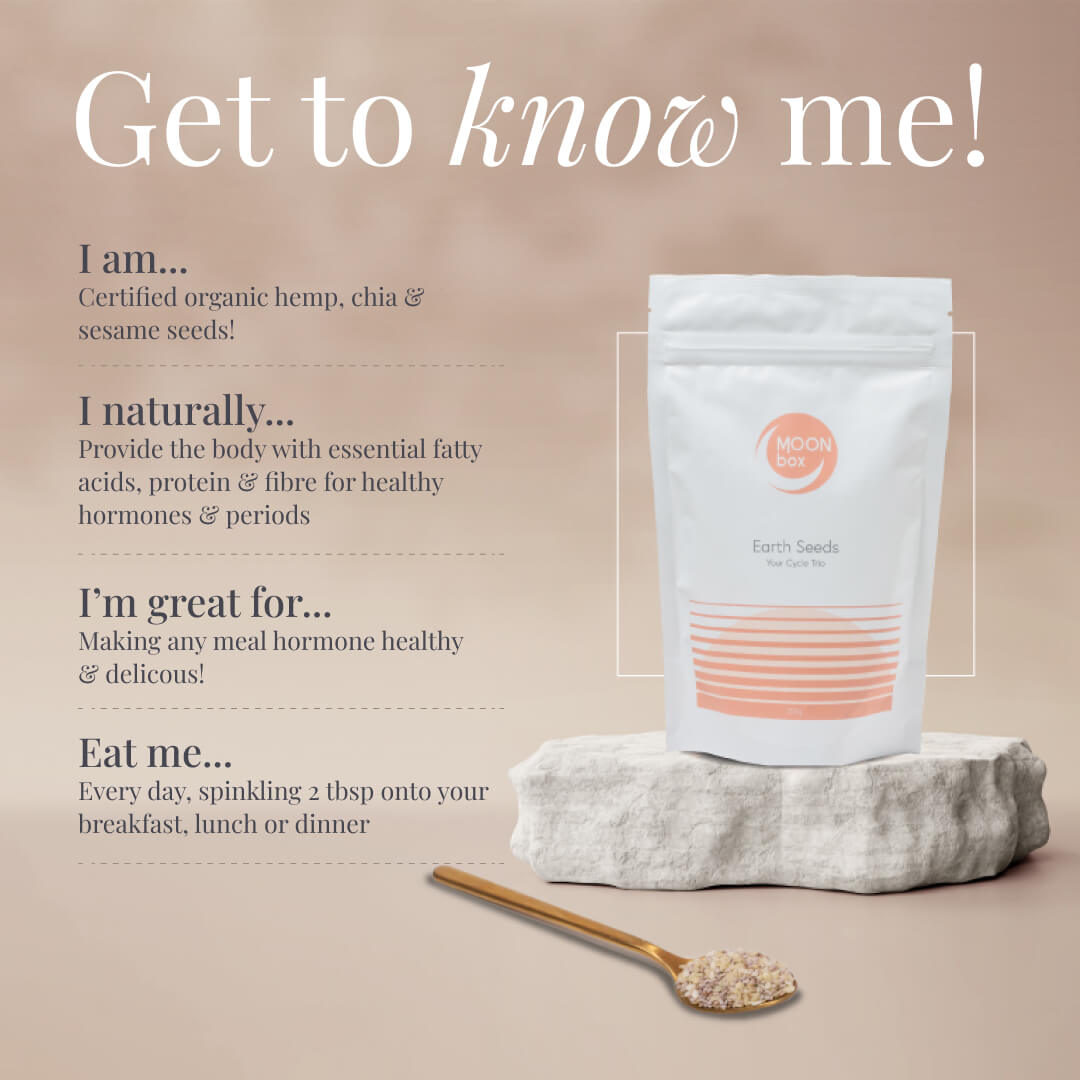 What's Inside?
Organic Hemp Seeds

A rich source of plant based protein, essential fatty acids and gamma linolenic acid, which are nutrients known to support hormone balance, reduce inflammation & symptoms of PMS like cramps and tender breasts.

Organic Sesame Seeds

Not only are sesame seeds a great source of magnesium, vitamin B1, B8 & zinc – all essential nutrients for healthy cycles but they also contain gentle phytoestrogen properties that promote the healthy metabolism of estrogen from the body!

Organic Chia Seeds

Known for their excellent source of soluble & insoluble fibre promoting a healthy gut microbiome which plays a lead role in the metabolism & excretion of excess hormones.
Backed by Science, Design for You
Our products are made from the highest quality ingredients and using the latest science, we select the most effective and bioavailable form of every single ingredient to ensure the best results for great value.
PRACTITIONER FORMULATED

CERTIFIED ORGANIC

NO ARTIFICIAL INGREDIENTS

NO GMOS OR PRESERVITVES

AUSTRALIAN MADE
"Love incorporating Earth Seeds into my meals. They have aided in my digestion when I am on my period. A staple in my diet! "
Frequently Asked Questions
How do I use Earth Seeds?

Add 1-2 heaped tablespoons of Earth Seeds to any meal - breakfast, lunch or dinner - daily!




Think: smoothies, bliss balls, avocado toast, salads, eggs, baked goods, stews, soups and more!

How do Earth Seeds help fight PMS?

PMS has been linked to a deficiency in essential fatty acids, specifically the inhibited conversion of Gamma-linolenic acid (GLA) from Omega-6 fatty acids. Your body needs a balance of both Omega-6 & Omega-3 and these can only be obtained from specific food.




Hemp seeds is a rare source of GLA which has been shown to reduce prolactin (help with breast tenderness & sensitivity), help stabilise hormone levels, reduce inflammation and even ease bloating, cramps and other PMS discomforts.

How many servings are per packet?

There are 30 servings per packet of Earth Seeds.

We recommend daily consumption.

Are Earth Seeds used for seed cycling?

Earth Seeds haven't been intentionally designed for the practice of "seed cycling".




However we've made consuming seeds every day of the month easy and convenient with the 3 top seeds for your cycle in one packet!

Are Earth Seeds suitable for pregnancy or breastfeeding?

Yes, Earth Seeds contain Omega-3's which are vitally important during pregnancy & breastfeeding as they are critical building blocks of fetal & infant brain and eye development.

Are Earth Seeds both gluten-free and vegan?

Yes, Earth Seeds are vegan and gluten free, however they are packed in a facility that may also pack products containing gluten, nuts and other allergens.

Are Earth Seeds certified organic?

All seeds in Earth Seeds are certified organic to ensure the highest quality and efficacy.

What seeds are in Earth Seeds?

Certified Organic Hemp Seeds, Chia Seeds & Sesame Seeds
Better Period. Money Back Guarantee.
Better Period.
Money Back Guarantee.
Take the Period Quiz
Take the Period Quiz
Free Shipping

Australian Orders

Over $59.00

Customer Support

We're Here To

Support You

Happiness Guarantee

Quick Delivery