New Moon Cramps Tea
Free shipping on all AUS orders over $59.00
The tea designed for your cramps.

New Moon Tea utilises the potent & soothing herbs of organic cramp bark and raspberry leaf, which are traditionally two of the most well-known herbs for combating menstrual pains. If you're D.O.N.E with popping pain killers each month, say hello to New Moon Tea. 
The ingredients in this tea utilises the potent and soothing herbs of organic cramp bark and raspberry leaf, which traditionally are two of the most well-known herbs for easing menstrual cramps. These herbs have been known to help soothe even severe cramping that is associated with endometriosis, nausea & vomiting. This supportive feminine brew is designed to be consumed in the week leading up to, and during menstruation. It's easy to drink, with bold, tasteful earthy flavours.

Serving Size: 30x Serves

Practitioner Formulated

100% Natural

Certificated Organic

Proven Support
Designed to be consumed in the week before, and during menstruation for most benefits.

Steep 1-2 tsp of New Moon Tea in 1 cup (240ml) of boiling water for 5 minutes, or longer for a more potent infusion.

Proudly formulated and manufactured in Australia with certified organic ingredients. We source only the finest quality local and imported ingredients from our trusted suppliers.

No added gluten, egg, dairy, lactose, soy, sugar or nuts. No artificial flavours, colours, preservatives or sweeteners.
My Moonbox comes with a 100% happiness guarantee when you purchase the PMS & Cramps bundle and commit to daily implementation and support for 3 months. If you do the 3-step daily routine and implement the Masterclass strategies for 3 months and don't experience improvements in your menstrual health we will issue you a full refund.

Why 3 months? Because this is the time it takes to reset your hormones and lay foundations for real, lasting improvements in your menstrual health to take place. There is no such thing as a quick fix when it comes to your periods. It's a life-long partnership!

How it helps you
Frustrated by the lack of solutions for period pain? We hear you.
D.O.N.E with popping pain killers each month? We were too. Thanks to New Moon Tea, it is possible to have naturally pain-free periods that don't keep you from enjoying your life.
A holistic approach is key. Consuming New Moon Tea as part of your ritual whilst also addressing certain dietary & lifestyle factors that impact hormonal health is going to set the strongest foundations for experiencing healthier, happier periods.
What's Inside?
Organic Raspberry Leaf

Consumed for centuries to support healthy menstruation, tone the uterus and prevent menstrual cramps.

Organic Cramp Bark

Known to have antispasmodic, anti-inflammatory and pain-relieving effects.
Full Ingredient Glossary
Raspberry Leaf Rubus idaeus

A well known fertility herb and phenomenal uterine tonic that is rich in nutrients and contains the wonderful alkaloid, fragarine, which may be helpful in reducing premenstrual symptoms as it relaxes and tones the uterus.

Organic Cramp Bark

Used thoughout history by traditional Native American Indians - A herbal supplement made from the shrub's dried bark is used to treat pain from muscle cramps, especially period cramps.
Save on the PMS & Cramps Bundle
Save 10% on the ultimate PMS & Cramps bundle. Everything you need to take control of your menstrual health and end monthly suffering.
Get your Bundle
"Cramps be gone. Let that suffice as to how superb this tea is. Get it, ladies!"
"I love the taste of this tea & have definitely noticed it helps with pain. I also drink it if I'm having stomach/gut cramps & it helps!"
"So happy with this New Moon Tea! Especially helps just before and during my period, have less cramps which I'm super happy with. And tastes delicious"
"This tea is so lovely! It has become a pre-period essential item for me. I feel like it prepares my uterus for doing it's thing & definitely has helped ease my cramping!"
Frequently Asked Questions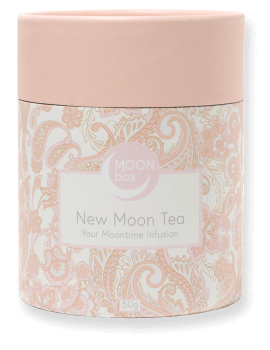 Who is New Moon tea for?

New Moon Tea has been specifically formulated for women who experience menstrual pains associated with PMS/PMDD, endometriosis, cysts and PCOS.

Are herbal teas safe to drink whilst pregnant or breastfeeding?

We recommend speaking with your healthcare professional before consuming any product whilst pregnant or breastfeeding.

How long does one cylinder of New Moon Tea last?

50g of New Moon Tea contains 30 servings.

One serving of New Moon Tea can be used for up to 3 infusions as the loose leaves can be used repeatedly to reap benefits and until the flavour is no more.

When should I drink New Moon Tea?

We recommend to drink New Moon Tea daily in the week before your period, and throughout your period for most benefit.

Is it loose leaf or in tea bags?

All of our teas are loose-leaf (not in a tea bag). We recommend brewing tea in a teapot or tea infuser. Loose-leaf tea allows the water to flow through the leaves and extract a wide range of vitamins, minerals, flavours and aromas from the leaves compared to regular tea bags.

What does New Moon Tea taste like?

The ingredient cramp bark has an earthy flavour, whilst raspberry leaf tea is similar to a fruity black tea. Its focus is more on the therapeutic benefits however is also easy to drink and even the non-tea drinkers say they enjoy it.
Better Period. Money Back Guarantee.
Better Period.
Money Back Guarantee.
Take the Period Quiz
Take the Period Quiz
Free Shipping

Australian Orders

Over $59.00

Customer Support

We're Here To

Support You

Happiness Guarantee

Quick Delivery