Moon Boost Magnesium Oil
Free shipping on all AUS orders over $59.00
If there is one "must-have" product for healthier menstrual cycles – this is it. Give yourself a daily boost of magnesium & in turn improve PMS, combat period pain, boost your moods, energy & sleep.

YES - it really is the magic period mineral - essential for every woman's cycle.

This practitioner formulated, science-led formula is a delicious blend of certified organic adaptogenic herbs and superfood spices which work together to support healthy hormone balance, boost energy, moods and have you feeling your best every day of the month.

Practitioner Formulated

100% Natural

Certificated Organic

Proven Support
Designed to be used every day of the month! Use Moon Boost daily throughout the entire month, by spraying directly onto your tummy, or any area of concern. Around 80% of women are deficient in magnesium so consistently replenishing levels is important for health benefits. Deficiency may reveal itself as: cramps, PMS, anxiety, poor sleep, headaches, sugar cravings and muscle fatigue.
My Moonbox comes with a 100% happiness guarantee when you purchase the PMS & Cramps bundle and commit to daily implementation and support for 3 months. If you do the 3-step daily routine and implement the Masterclass strategies for 3 months and don't experience improvements in your menstrual health we will issue you a full refund. Why 3 months? Because this is the time it takes to reset your hormones and lay foundations for real, lasting improvements in your menstrual health to take place. There is no such thing as a quick fix when it comes to your periods. It's a life-long partnership!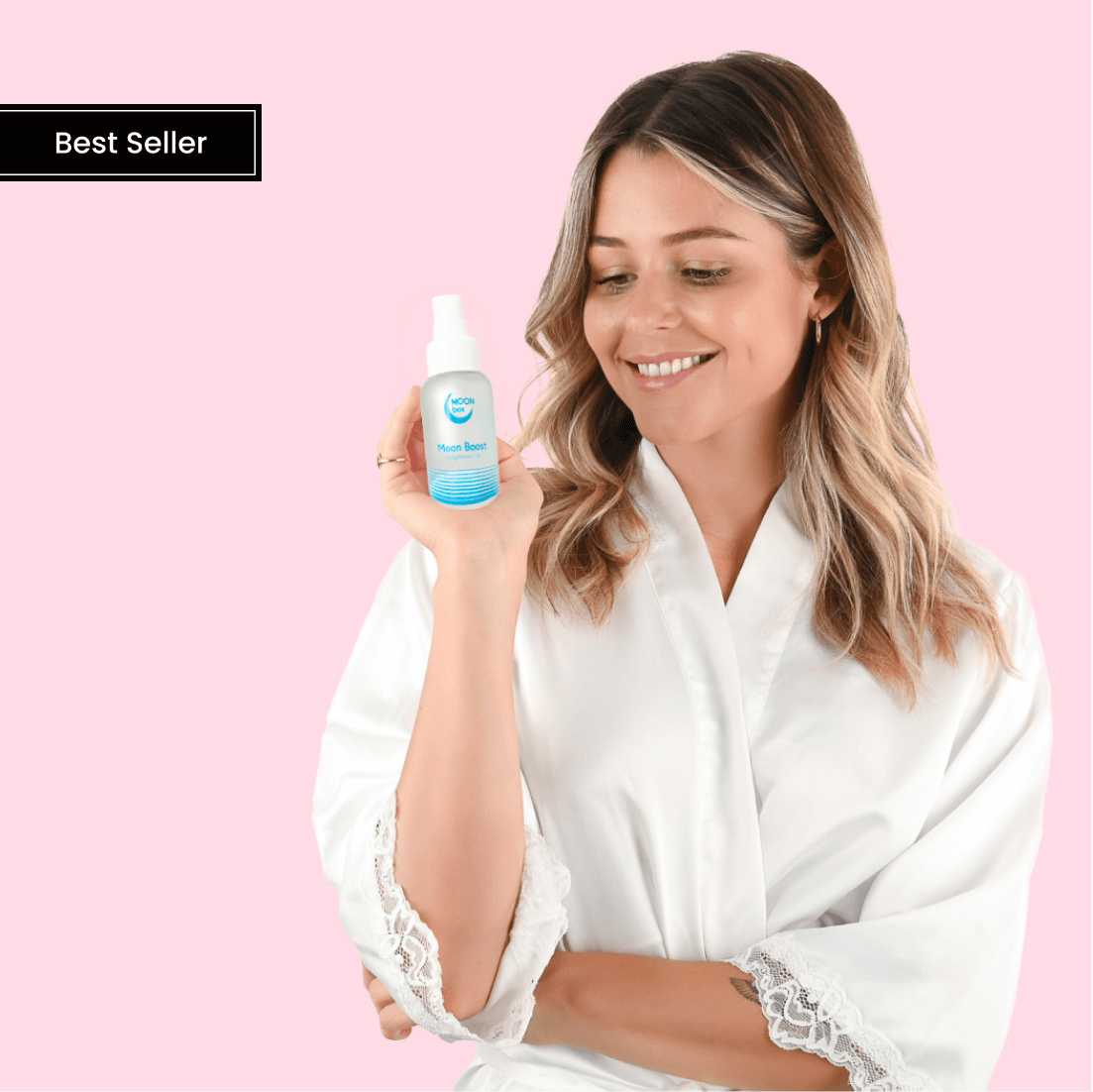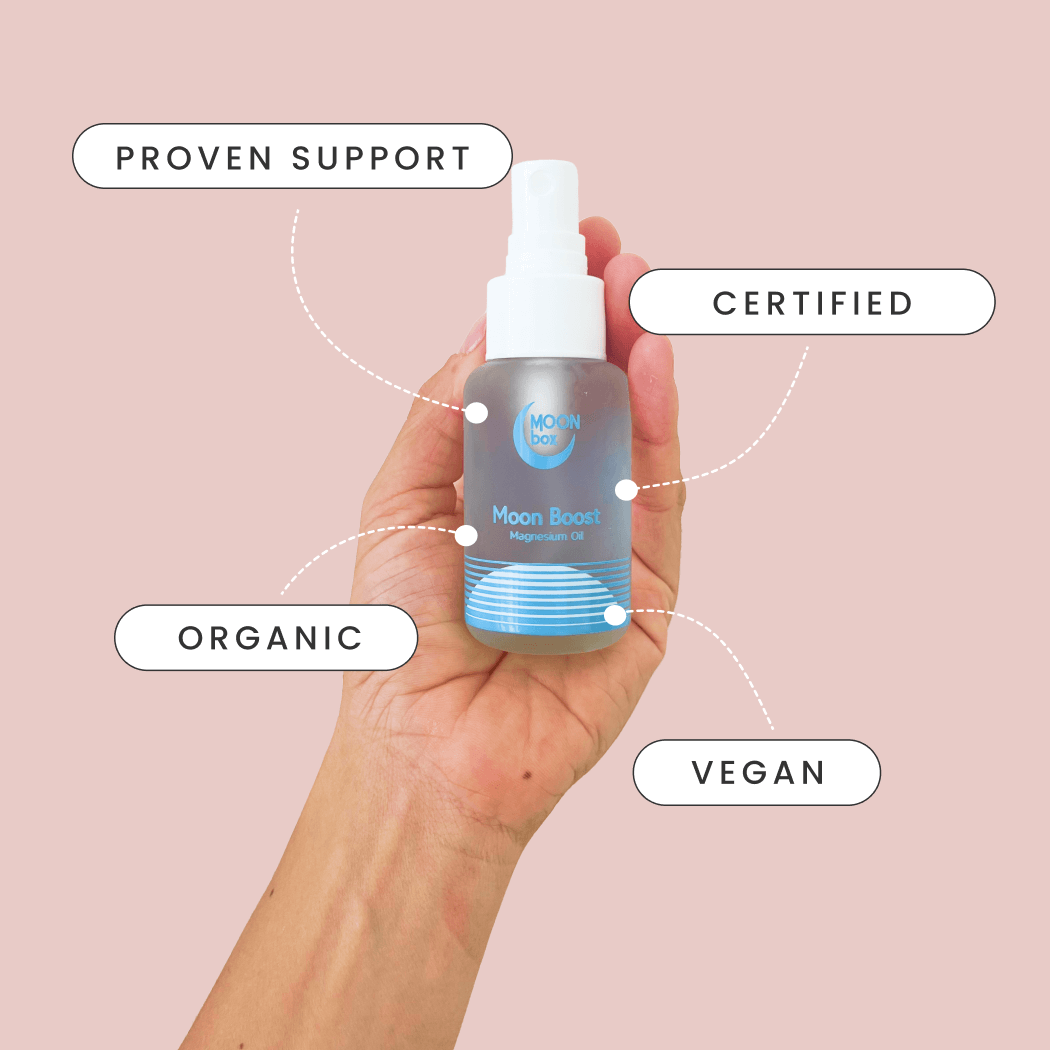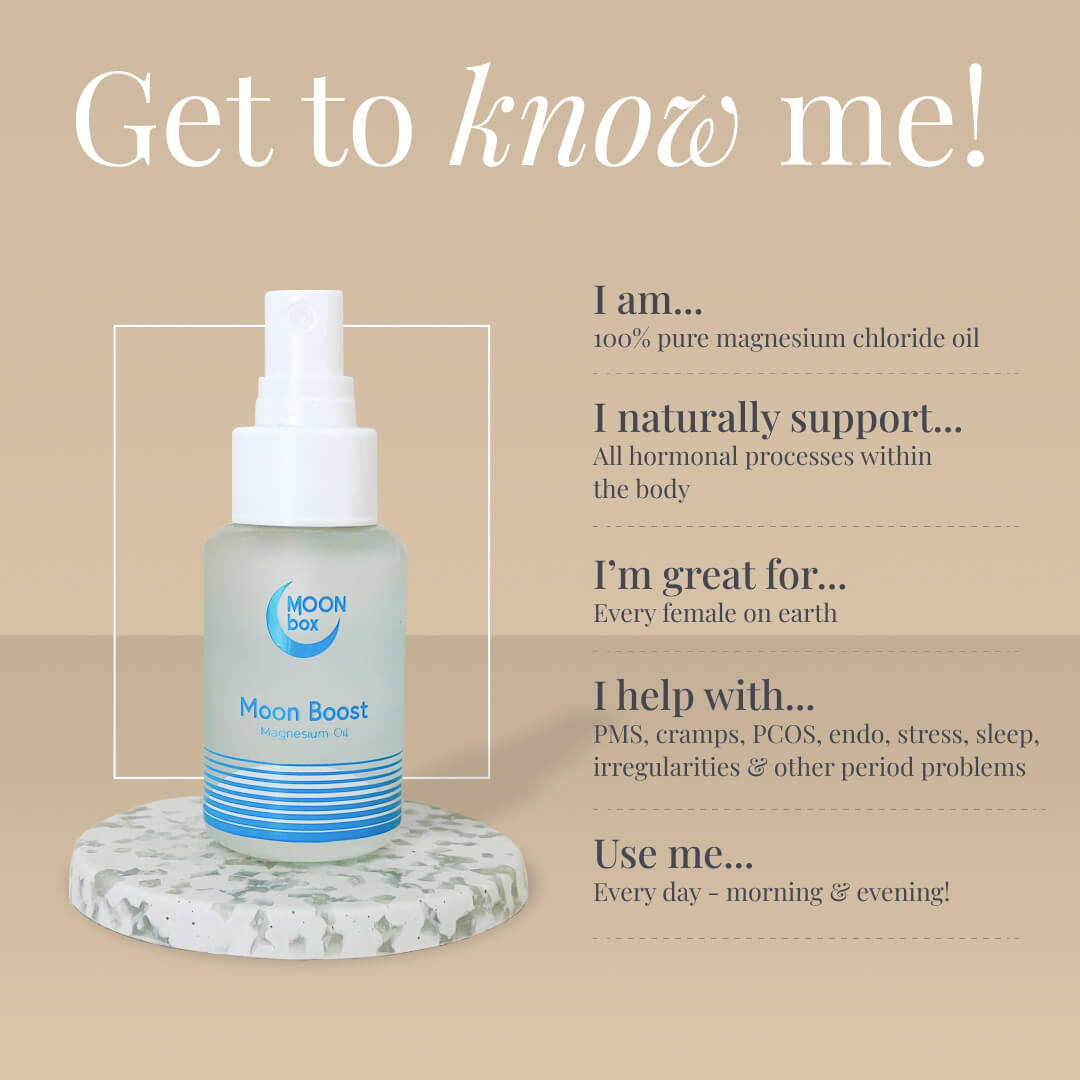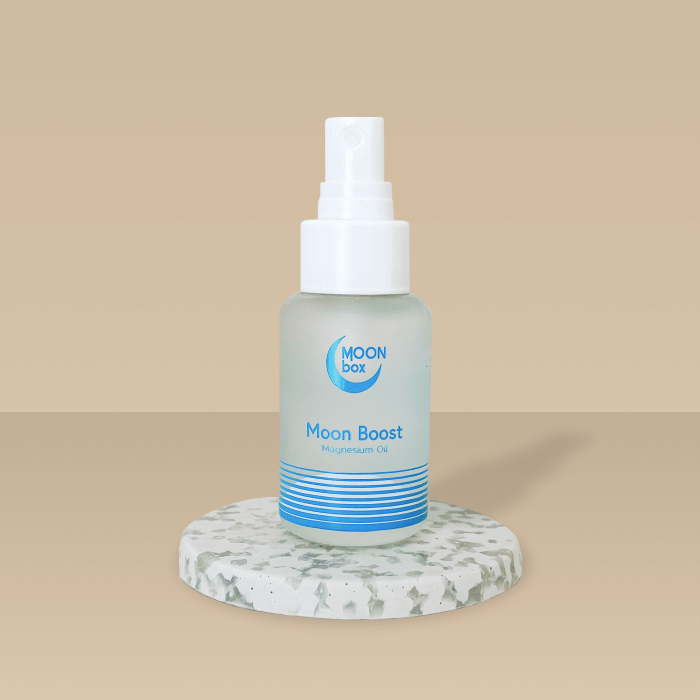 How it helps you
Research has found that magneisum deficiency is a common cause of PMS, anxiety, headaches & cramps. And guess what? Over 80% of people are deficiency in magnesium!

Top up your magnesium levels with just a few sprays of Moon Boost a day & feel the difference throughout the entire month! Magnesium really does live up to its reputation of being the mineral that "does it all".
What's Inside?
Magnesium

100% natural, high-grade magnesium chloride oil, a mineral essential for healthy moods, energy, sleep, fertility, and regular periods; involved in all hormonal processes within the body
Backed by Science, Design for You
Our products are made from the highest quality ingredients and using the latest science, we select the most effective and bioavailable form of every single ingredient to ensure the best results for great value.
PRACTITIONER FORMULATED

CERTIFIED ORGANIC

NO ARTIFICIAL INGREDIENTS

NO GMOS OR PRESERVITVES

AUSTRALIAN MADE
"I can't go a day without the Moonboost, it has been my absolute lifesaver! Calms cramps instantly!"
"Reduces my period pain significantly & I don't need to turn to pain relief for the first time in years!"
Really helped improve my migraines!!
"Use this every morning and night, and it has reduced my period pain every month."
Frequently Asked Questions
What exactly is Moon Boost Magnesium oil?

Magnesium oil facilitates topical delivery (through the skin) of magnesium chloride. It is well documented that most of the magnesium in oral capsule supplements is lost in the digestive system or eliminated by the body, not reaching the cells that need it. Our easy to use spray means that you can apply magnesium straight to your skin & its absorbed directly into your blood stream taking effect almost immediately.

How does magnesium help PMS & Cramps?

Magnesium is an essential micronutrient for hormone balance & has been a proven relief for PMS & cramps.




Magnesium reduces

inflammatory prostaglandins which are responsible for causing period pain




Magnesium regulates blood sugar and improves insulin sensitivity making it beneficial for women with PMS, PMDD & PCOS




Magnesium regulates the HPA axis and calms the nervous system, helping relief stress, anxiety and balance moods




Magnesium is involved in the metabolism of estrogen - especially critical those who experience symptoms of PMS/PMDD, PCOS and endometriosis.

Why Moonbox Moon Boost over other brands?

My Moonbox sources our magnesium chloride from the deepest hyper saline lake in the world, we do this as through our research and development stages of creating our product we could not find the purity we were looking for here in Australia. When we were sourcing form Australia we found traces of heavy metal contamination (when sourcing a natural product from the earth's crust we need to be mindful of the state of this space, the earth). Our products are all natural with no hidden nasties with our formula being one of the highest concentration on the market.

When do I use Moon Boost?

We recommend using Moon Boost EVERY day of the month to ensure you are actively topping up your magnesium levels daily.




Apply up to 6 sprays to your belly or any area of concern and gently rub in. It may be left on the skin for maximum absorption or washed off after 20.

Why does magnesium oil sting, tingle or itch when applied to the skin?

You may feel a slight tingle when applying Moon Boost magnesium oil. This is a sign of a Magnesium deficiency within the body and is completely normal. The sensation will ease as your body develops a sufficient amount but can also be alleviated by applying a moisturiser between the spray and your skin. You can dilute with water (60:40), or add some coconut oil after application to make this tingle a little less uncomfortable without missing out on the benefits. Discontinue use if rash or irritation occurs.

What is the 'oil' in magnesium?

The name 'magnesium oil' comes from the texture of this mineral-saturated solution, it is often described as "oil-like", there is actually no 'oil' in the product. Magnesium oil is a water based product therefore dries quickly without leaving oily marks.

Can magnesium oil be used throughout pregnancy or whilst breastfeeding?

Definitely! There are no nasties in our products, it is all natural and is safe for you to use throughout pregnancy and breastfeeding. Magnesium is an essential mineral for fetal development and will also help with the aches, pains and better sleep during pregnancy. As all pregnancies are different we always recommend consulting your GP prior to using any supplements to ensure it is right for you.
Better Period. Money Back Guarantee.
Better Period.
Money Back Guarantee.
Take the Period Quiz
Take the Period Quiz
Free Shipping

Australian Orders

Over $59.00

Customer Support

We're Here To

Support You

Happiness Guarantee

Quick Delivery