Daily Cycle-Care Routine Moonbox
In just 3 simple steps a day, provide your hormones with the essential daily support for easier, predictable, PMS-free periods.
These 3 products work together to create a daily routine designed to provide your hormones with the essential support needed to experience consistently, healthier periods.
When it comes to PMS you're looking at an imbalance between the hormones estrogen and progesterone, most commonly where estrogen is more dominant. This imbalance is caused by factors such as inflammation, blood sugar imbalance, poor clearance of estrogen, environmental toxins and inadequate levels of progesterone.

This Moonbox is your natural, effective and simple approach to more energy, balanced moods and improved PMS and cramps begins here.
Practitioner Formulated

100% Natural

Certificated Organic

Proven Support
Just like you have a skincare routine to keep your skin clean, clear and prevent breakouts.

Your hormones need a daily routine to maintain balance and for you to experience consistently healthy, symptom free periods. You can achieve this in just 3 simple and easy steps a day!

Step 1: Sip - Support your mood, energy & reduce inflammation causing period problems by sipping on a delicious Luna's Gold Latte any time of day.

Step 2: Spray - Replenish your magnesium levels with a few sprays of Moonboost Magnesium Oil onto your belly. Magnesium is dubbed the 'magic period mineral' and is essential for all menstrual cycles.

Step 3: Sprinkle - Boost your meals with a sprinkle of Earth Seeds - the essential nutrients your body needs for balanced hormones.
My Moonbox comes with a 100% happiness guarantee when you purchase the PMS & Cramps bundle and commit to daily implementation and support for 3 months. If you do the 3-step daily routine and implement the Master Your Cycle strategies for 3 months and don't experience improvements in your menstrual health we will issue you a full refund. Why 3 months? Because this is the time it takes to reset your hormones and lay foundations for real, lasting improvements in your menstrual health to take place. There is no such thing as a quick fix when it comes to your periods. It's a life-long partnership!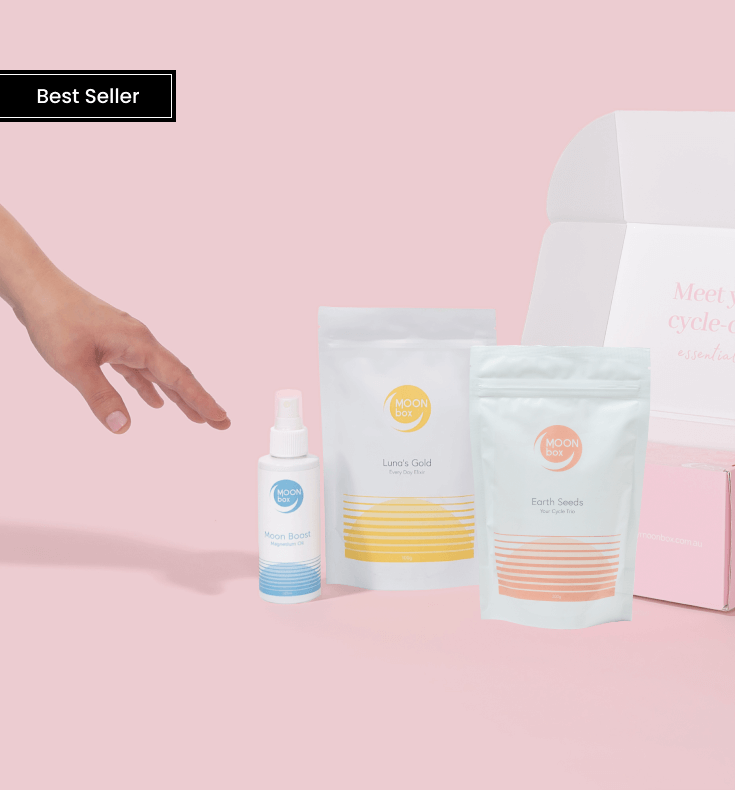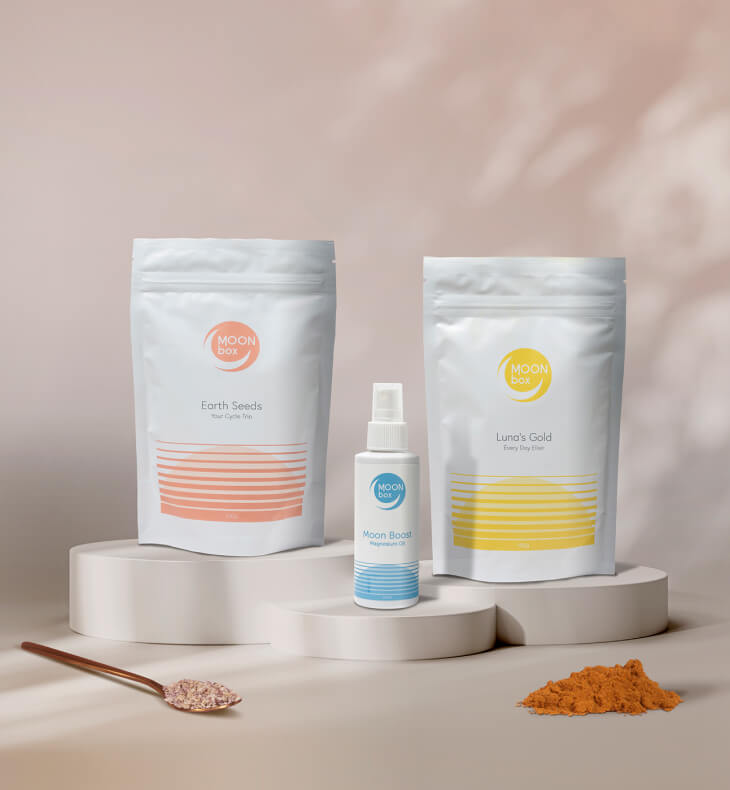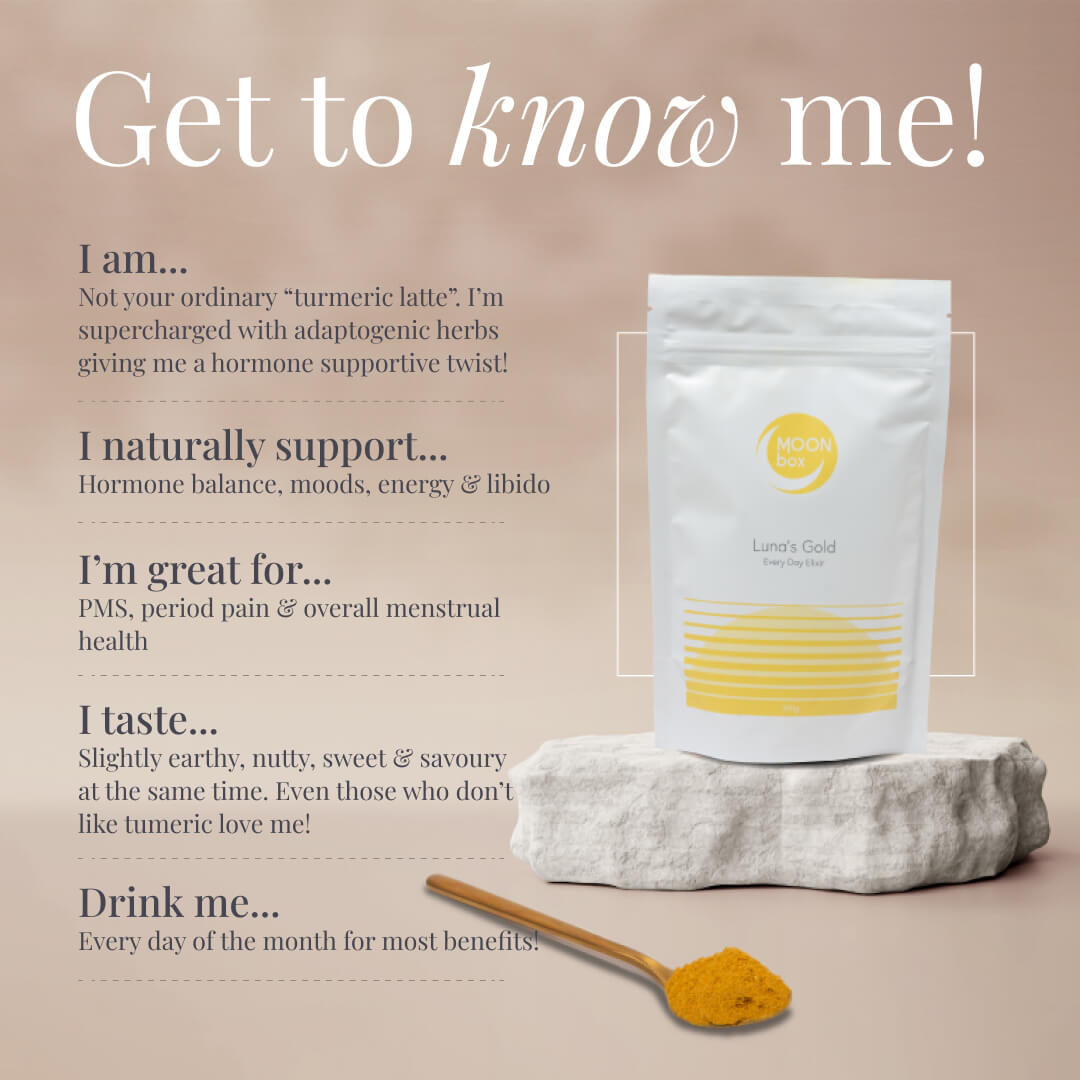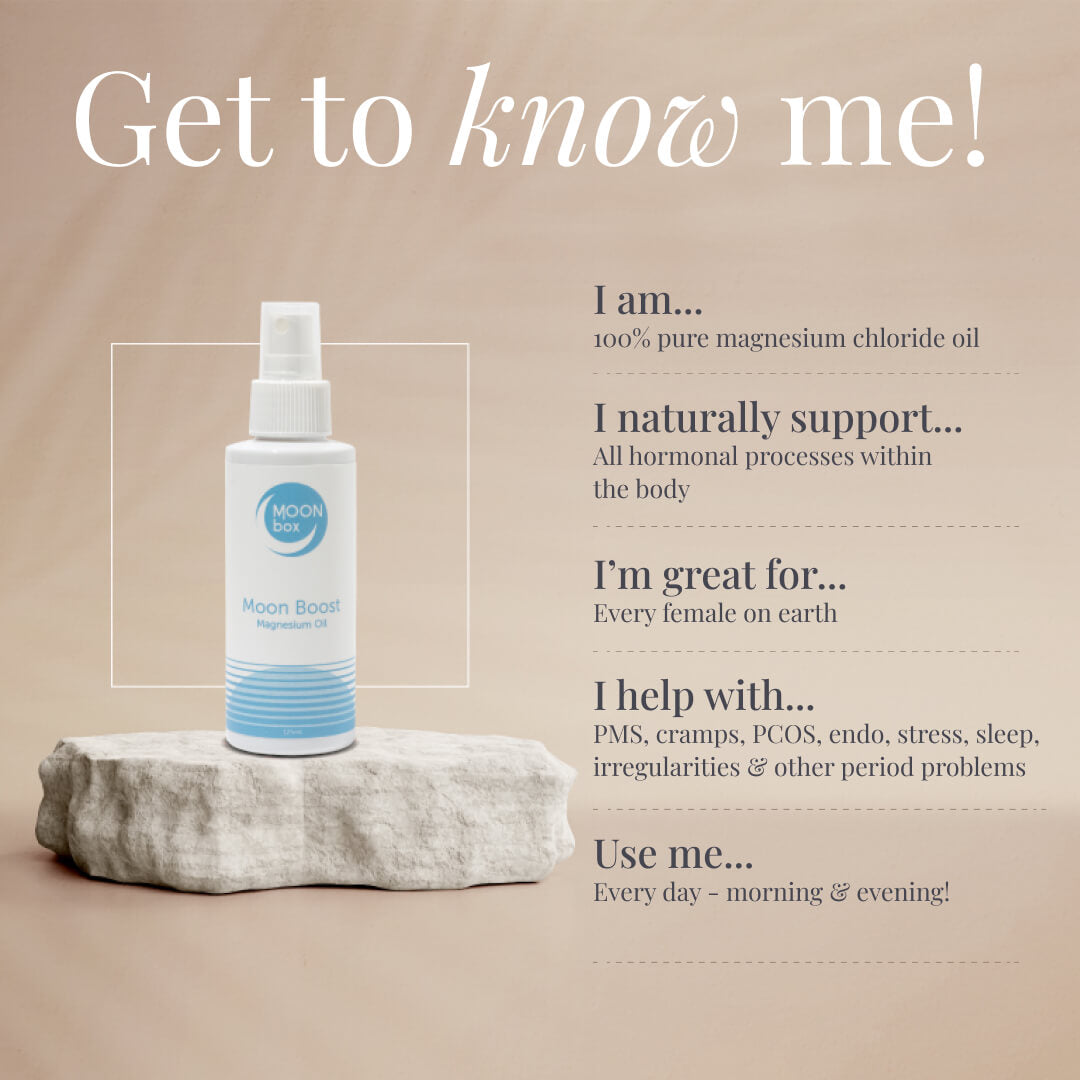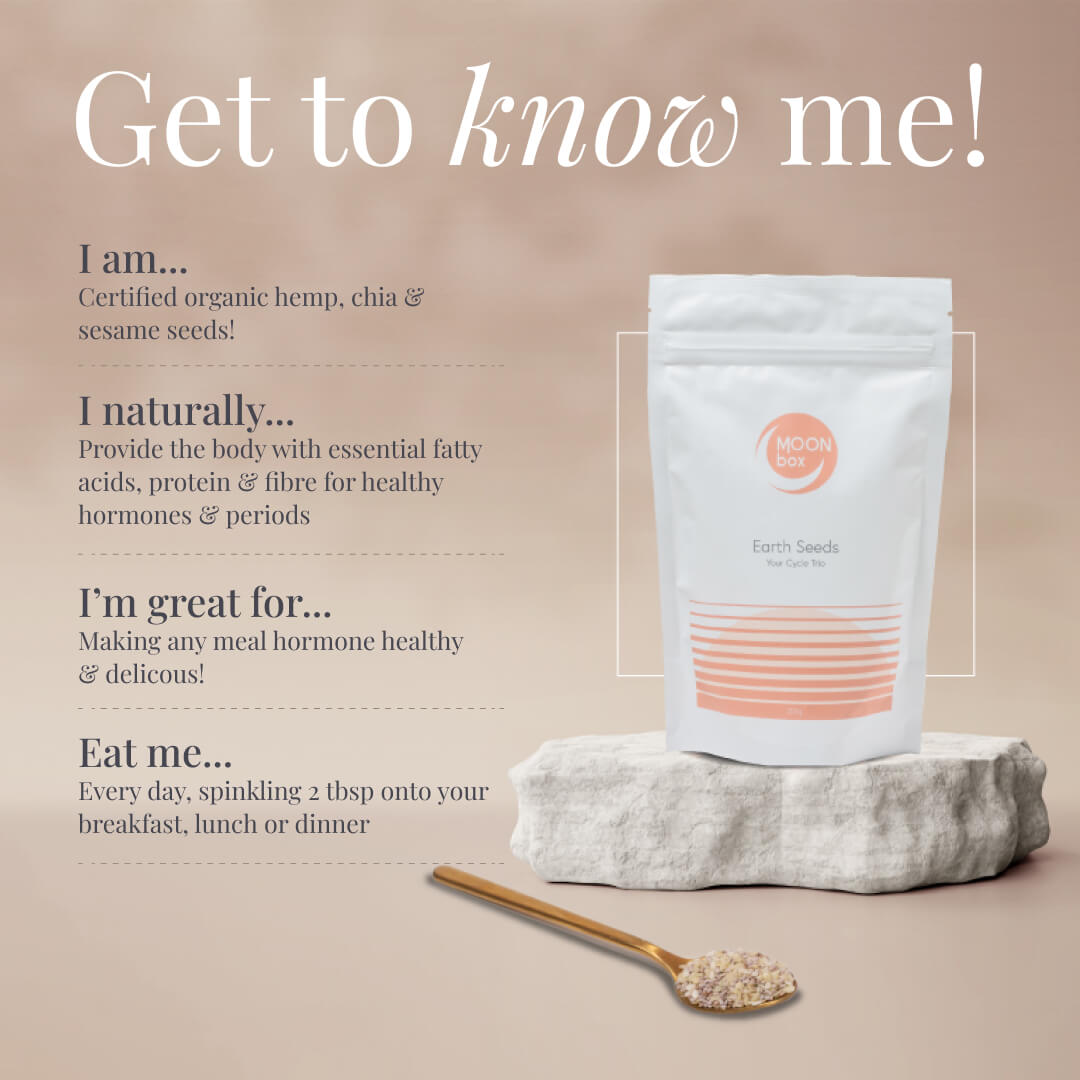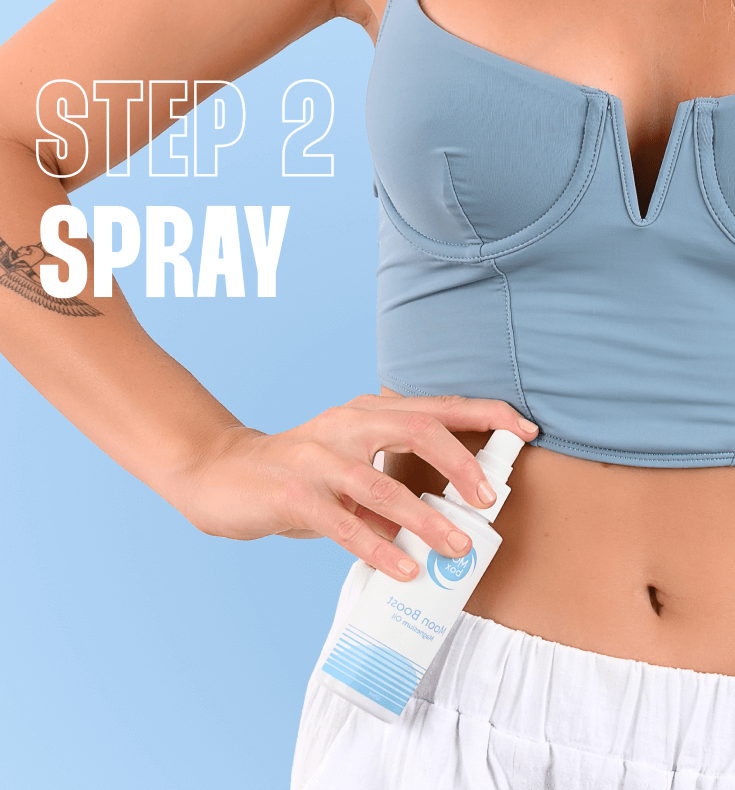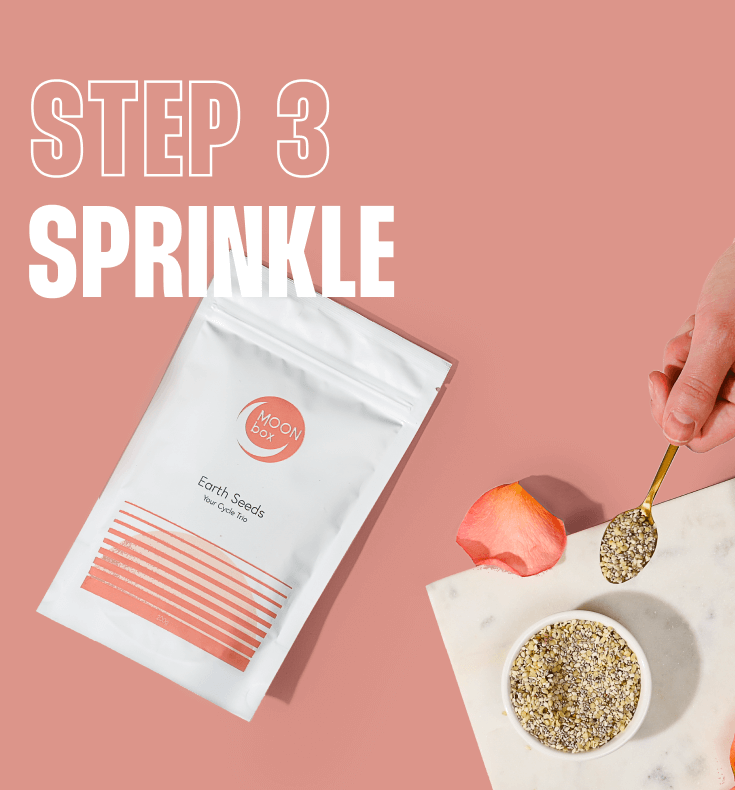 This box is for you if
You're done with monthly period symptoms stopping you from living your best life. You're confused by your body and sick of leaving the doctor's office feeling misunderstood or unheard, only to be prescribed pills or birth control to "fix" you. You want to find a real, natural and long term solution to your period problems. If you experience any of the following symptoms, it's time to finally take back control of your health.

Period Pain
PMS / PMDD
Bloating
Breast Tenderness
Anxiety / Depression
Low Energy
Period Pain Made Simple In 3 Daily Steps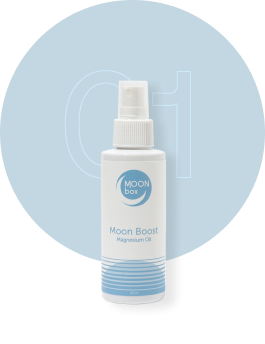 Moon Boost
Dubbed the 'miracle mineral for periods' that every mensturator needs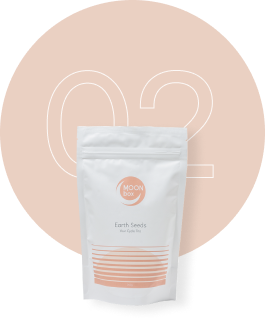 Earth Seeds
Essential nutrients sprinkled onto any meal for a hormone healthy boost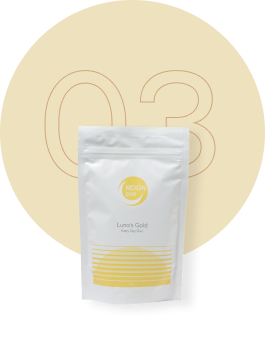 Luna Gold
A delicious blend of cycle supportive adaptogenic herbs & superfoods
Full Ingredient Glossary
Magnesium

100% natural, high-grade magnesium chloride oil, a mineral essential for healthy moods, energy, sleep, fertility, and regular periods; involved in all hormonal processes within the body
Full Ingredient Glossary
Organic Hemp Seeds

A rich source of plant based protein, essential fatty acids and gamma linolenic acid, which are nutrients known to support hormone balance, reduce inflammation & symptoms of PMS like cramps and tender breasts.

Organic Chia Seeds

Known for their excellent source of soluble & insoluble fibre promoting a healthy gut microbiome which plays a lead role in the metabolism & excretion of excess hormones.

Organic Sesame Seeds

Not only are sesame seeds a great source of magnesium, vitamin B1, B8 & zinc – all essential nutrients for healthy cycles but they also contain gentle phytoestrogen properties that promote the healthy metabolism of estrogen from the body!
Full Ingredient Glossary
Turmeric (Curcuma longa) 8% curcumin

We source the highest grade turmeric containing 8% curcumin compared to the average 3% from regular store bought turmeric. Curcumin is the compound in turmeric with the anti-inflammatory properties that are known to help with pain relief, gastrointestinal issues, fibroids, endometriosis, PCOS and PMS.

Maca (Lepidium mayenii)

Maca root is an adaptogen best known for enhancing libido, energy & moods. Adaptogens supports your whole endocrine system to produce the right amounts of hormones that you need and help your body "adapt" to stress that might otherwise deplete your body's hormone production and cause symptoms.

Shatavari (Asparagus racemosa)

Shatavari is an adaptogenic powerhouse traditionally used as a female reproductive system tonic, supporting fertility, the menstrual cycle, and hormonal changes.

Cinnamon (Cinnamomum zeylanicum)

Shown in studies to have significant effect in the reduction of menstrual pain, heavy bleeding and nausea.

Ginger (Zingiber officinale)

Studies published in recent years suggest that ginger may be helpful for relief of period pain, finding it more effective than nonsteroidal anti-inflammatory drugs. In addition, there's evidence that ginger may help reduce heavy menstrual bleeding.

Vanilla (Vanilla plantifolia)

Pure unadulterated organic vanilla bean powder. Delicious and a nutritional powerhouse rich in magnesium, potassium and calcium.
Save on the PMS & Cramps Bundle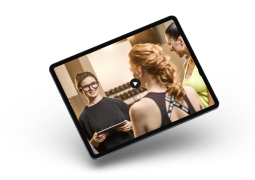 This bundle is where the real , lasting cycle improvements happen. Save 10% on the PMS & Cramps Masterclass and Moonbox to end period suffering for good!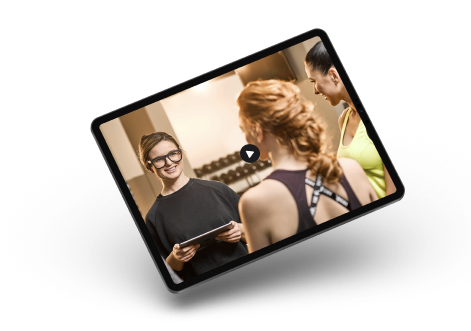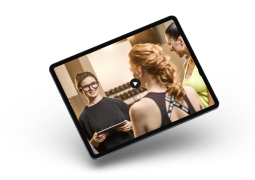 Backed by Science, Design for You
Our products are made from the highest quality ingredients and using the latest science, we select the most effective and bioavailable form of every single ingredient to ensure the best results for great value.
Practitioner approved

organic ingredients

No Artificial Ingredients

No GMOs or Preservatives

Australian made
" I have super bad period cramps but since using this Moonbox, I have felt so much relief."
"Since using My MoonBox products for the first time in a long time my period has arrived and thankfully has not accompanied by tender/swollen breasts"
"I've been searching for natural relief for over 6 years now & this moon box does the trick!"


"This box has been the perfect start to improving my pms & cramps. I've just had my first period after only using Lunas gold for a couple of weeks & have already noticed an improvement."
"Highly recommend! Amazing products to balance your hormones and improve your over health and period!"
Frequently Asked Questions
Is this Moonbox right for me?

If you're ready for a NATURAL approach to upgrading your hormonal health & saying sayonara to painful periods, fatigue, PMS, mood swings, sore boobs, + low libido - this Moonbox is for you.

When do I use each product?

These 3 products work together to form a 3-step DAILY routine.




That's right - just like you have a daily skincare routine, your hormones need daily, consistent support aswell.




1. Enjoy a Luna's Gold Latte as the perfect coffee alternative, or add to your smoothies.




2. Spray Moon Boost Magnesium Oil onto your belly as part of your morning and evening routine.




3. Sprinkle 1-2 tablespoons of Earth Seeds onto any meal, breakfast, lunch or dinner!

How long do the products in this Moonbox last?

All 3 products are designed to be used DAILY & last one full menstrual cycle, up to 35 days with consistent use.




We recommend subscribing to the subscription box so to stay consistent with using the products for maximized results.

How quickly will I experience results?

Everybody & every period is different.




When it comes to fixing your periods it takes a long-term & holistic approach, there is no such thing as a quick fix.




It takes a minimum of 3 months to reset & rebalance hormones so consistency with using the products as part of your daily routine is key for maximized results.




Some people will experience improvement within their next menstrual cycle, for others depending on their current state of health it may take more than 3 months.




Your diet & lifestyle play a huge role in fixing your periods, which is why we always recommend the PMS & CRAMPS BUNDLE which includes the Master Your Cycle & Daily Cycle-Care Moonbox together.

Are these products safe to use whilst TTC, pregnant or breastfeeding?

These products are an amazing support whilst trying to conceive as they support overall hormonal health and fertility.




We always recommend consuling your health care practitioner when pregnant or breast feeding to confirm product safety for you.
Better Period. Money Back Guarantee.
Real results from our community
0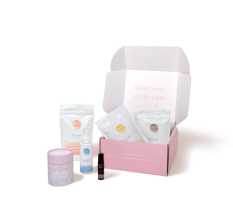 Free Shipping

Hassle Free Returns

Money-Back Guarantee

Quick Delivery