Luna's Gold Turmeric Latte
Superfood Latte for PMS & Cramps
Free shipping on all AUS orders over $59.00

30 day money back guarantee

Free recipe eBook with purchase
Luna's Gold is a delicious coffee alternative designed to provide your body with essential nutrients your hormones need every day, for you to experience better periods every month! 

Just one serving a day delivers a comprehensive blend of adaptogens, herbs & spices, working together to fill nutrient gaps and deliver the foundation for hormonal & menstrual health.
Upgrades hormonal health

Balances moods

Combats cramps & PMS

Supports libido
Vegan
Gluten Free
Sugar Free
Organic
The way our founder Nikki describes Luna's Gold: "Our OG blend! Bright & warming, deliciously earthy & sweet with caramel & malt like flavour" They way our customers describe Luna's Gold: Hillary says, "Pleasantly surprised with the taste and texture- very smooth and creamy" Abigail says, "I Love the sweet, frothy taste of this drink" Sonyia says, "I don't even like turmeric and I LOVE Luna's Gold"
Enjoy one teaspoon daily as a hot or iced latte, or give your smoothies a delicious superfood boost. Most popularly enjoyed as a warming, feel-good morning latte, or an evening moon mylk to help wind down after a busy day.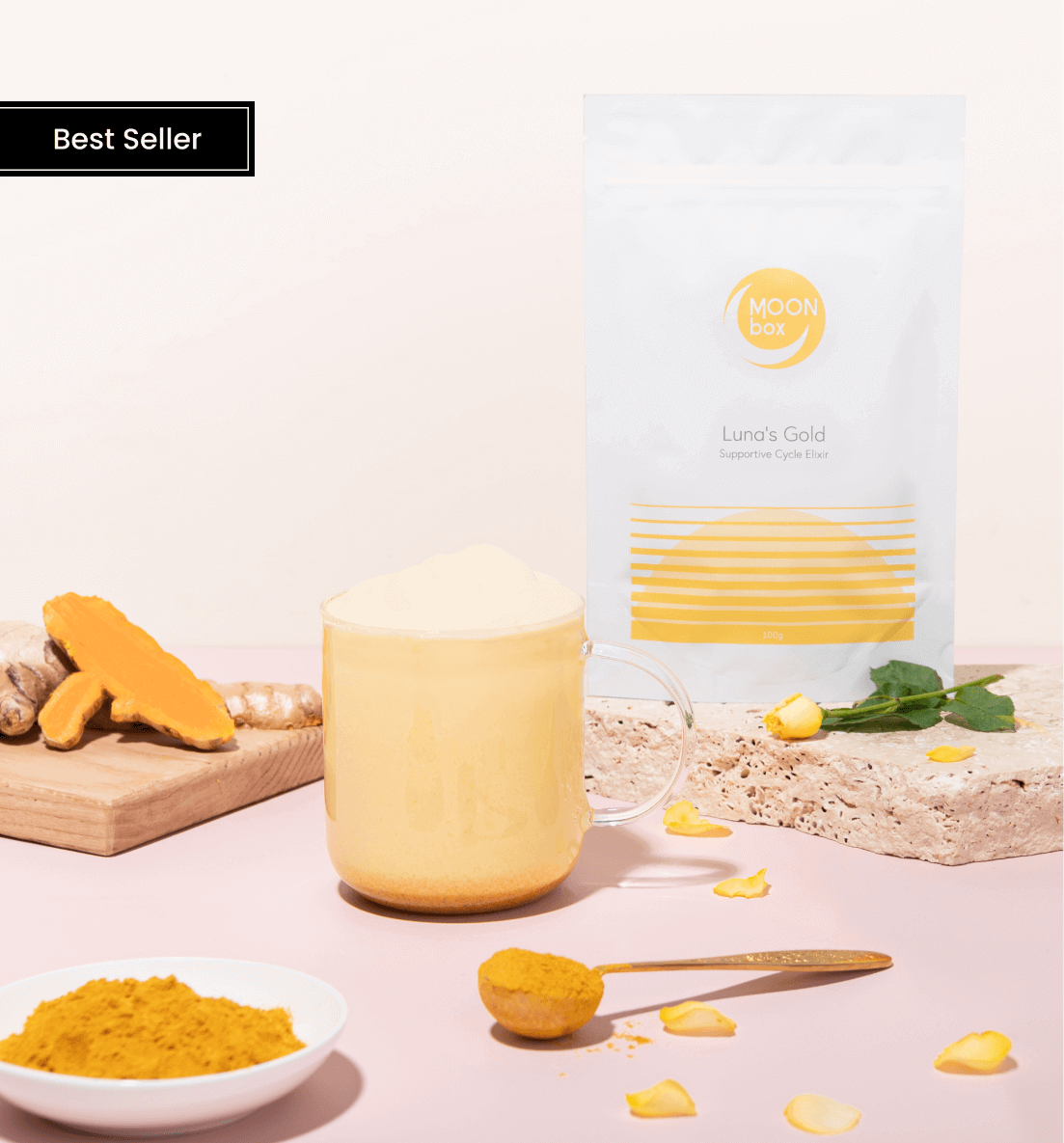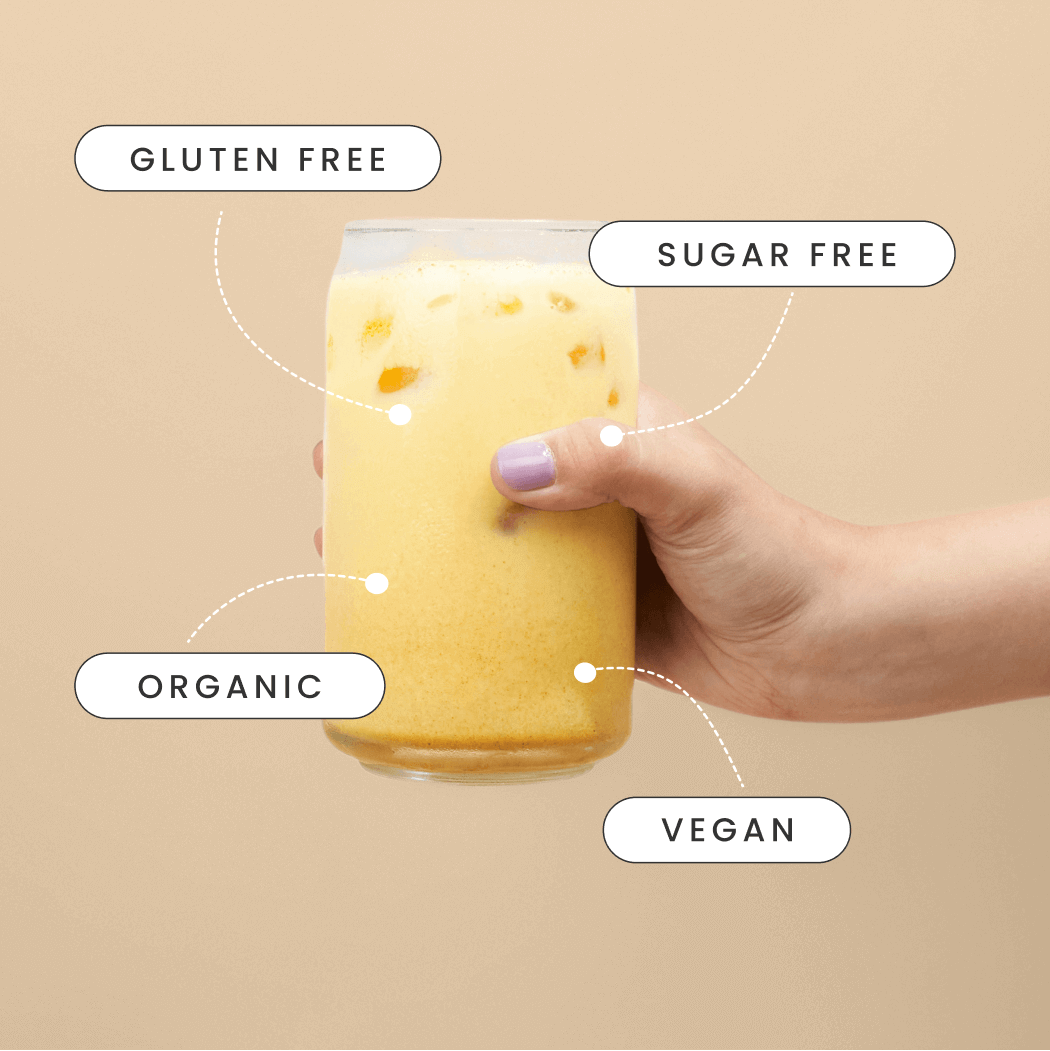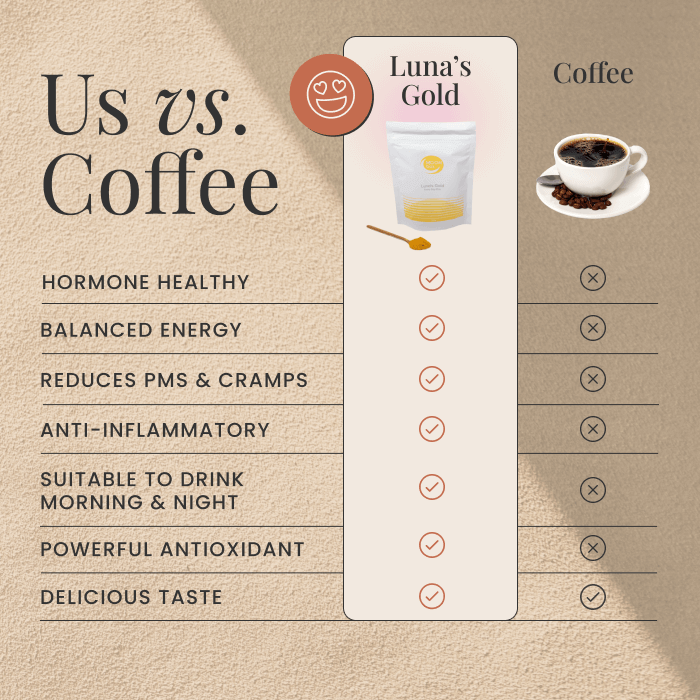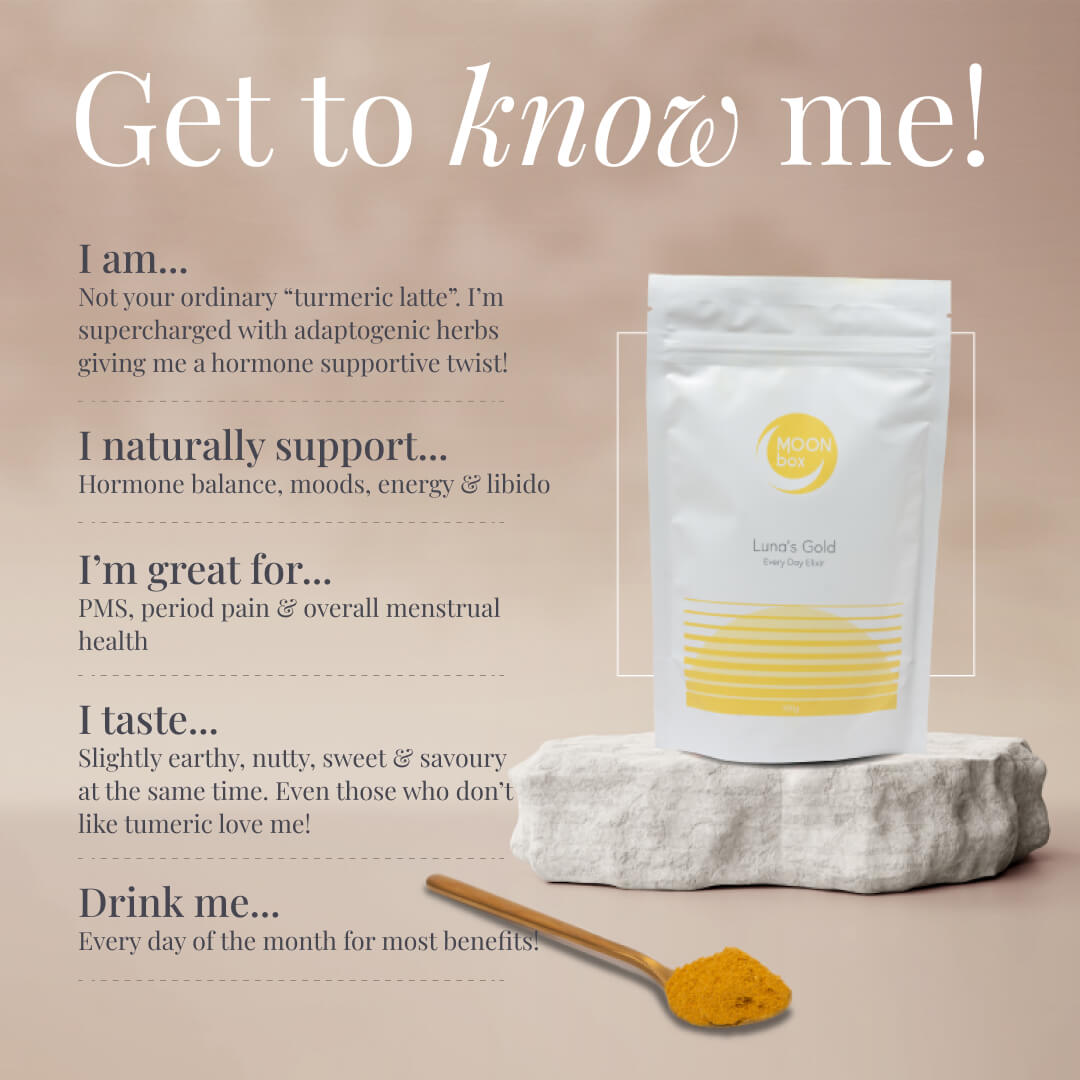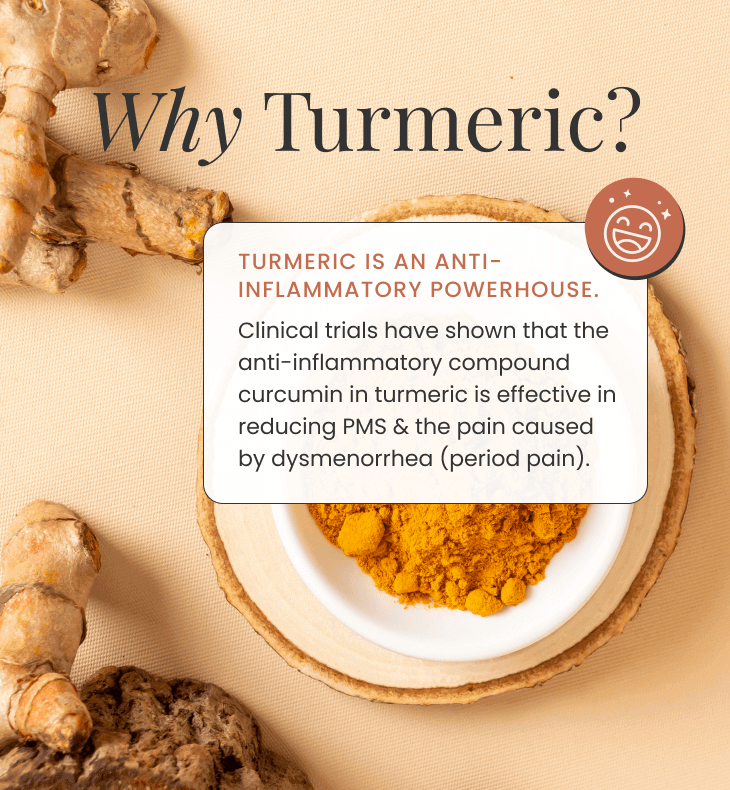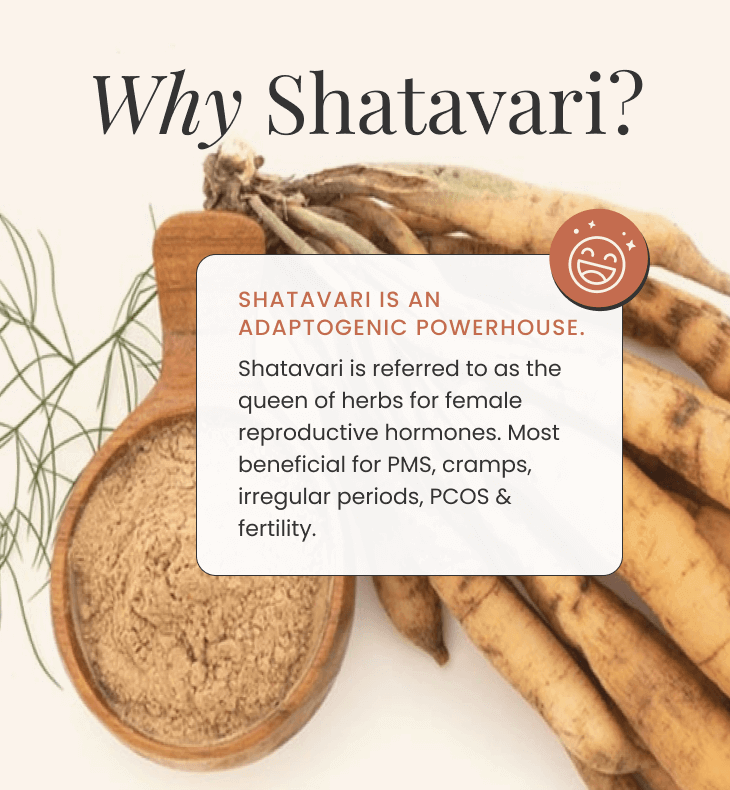 Why you'll love it
Promotes hormone health

Luna's Gold empowers your hormones for whole-body balance & cycle health

Energy, Mood & Stress Support

Luna's Gold contains potent adaptogenic herbs & antioxidants to support your energy, balance your mood & ability to adapt to stress

Daily Routine, Made Easy

All you have to do with Luna's Gold is enjoy one serving once a day, so you can feel amazing all month long
Happy Customers. Happy Periods.
How to make the perfect
Lunas Gold
Enjoy as a delicious latte, or in a smoothie to feel amazing every day of the month
01 step

Stir together 1 tsp of the blend and a splash of hot water. Sweeten to taste as desired (we like maple syrup)

02 step

Add a cup of frothed warm or iced mylk of your choice

03 step

Enjoy as you sip your way to hormonal bliss!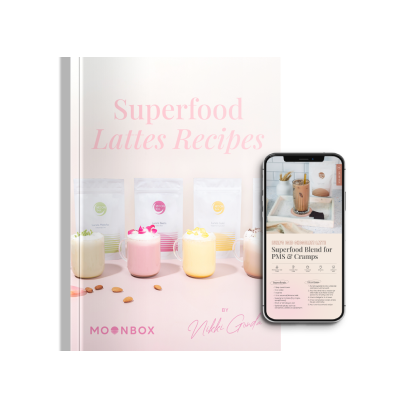 Bonus Hormone Lovin' Recipe eBook
Get delicious, easy latte & smoothie recipes created for balancing your hormones & reversing symptoms for good!
"Nutrient deficiencies are the root cause of PMS & Cramps
Our products provide the essential nutrients your hormones need daily to thrive"

Nikki Gonda
Founder & Nutritionist
Let's take a look inside...
Why you need High-Grade Turmeric

Turmeric is an anti-inflammatory powerhouse. Clinical trials have shown that the anti-inflammatory compound curcumin in turmeric is effective in reducing PMS & the pain caused by dysmenorrhea (period pain). What you need to know is that not all turmeric is created equal. Regular store bought turmeric only has an average 2% curcumin content compared to the high 8% in the premium grade turmeric we source for Luna's Gold blend. The higher the curcumin content the more effective it will be helping with pain-relief & PMS.We also use certified organic turmeric, meaning no toxic fertilizers, pesticides, synthetic flavors, colors or harmful anti-clumping agents that are used in inorganic powdered spices and are harmful for your health. Want to learn more about turmeric for your periods?

Why you need Maca Root

Maca root is an adaptogen, which means it supports your whole endocrine system to produce the right amounts of hormones that you need. It can help you to "adapt" to stress that might otherwise deplete your body's hormone production and cause symptoms.Maca is traditionally best known & used for PMS, energy & moods

Why you need Shatavari

Shatavari is an adaptogenic powerhouse traditionally used as a female reproductive system tonic, supporting fertility, the menstrual cycle, and hormonal changes
Full Ingredient Glossary
Turmeric (Curcuma longa) 8% curcumin

We source the highest grade turmeric containing 8% curcumin compared to the average 3% from regular store bought turmeric. Curcumin is the compound in turmeric with the anti-inflammatory properties that are known to help with pain relief, gastrointestinal issues, fibroids, endometriosis, PCOS and PMS.

Maca (Lepidium mayenii)

Maca root is an adaptogen best known for enhancing libido, energy & moods. Adaptogens supports your whole endocrine system to produce the amounts of hormones that you need and help your body "adapt" to stress & stop the symptoms.

Shatavari (Asparagus racemosa)

Shatavari is an adaptogenic powerhouse traditionally used as a female reproductive system tonic, supporting fertility, the menstrual cycle, and hormonal changes.

Cinnamon (Cinnamomum zeylanicum)

Shown in studies to have significant effect in the reduction of menstrual pain, heavy bleeding and nausea.

Ginger (Zingiber officinale)

Studies published in recent years suggest that ginger may be helpful for relief of period pain, finding it more effective than nonsteroidal anti-inflammatory drugs. In addition, there's evidence that ginger may help reduce heavy menstrual bleeding.

Vanilla (Vanilla plantifolia)

Pure unadulterated organic vanilla bean powder. Delicious and a nutritional powerhouse rich in magnesium, potassium and calcium.
The answers to your questions!
Is it caffeine free?

Luna's Gold is caffeine free, making it a delicious coffee alternative that's actually good for your hormones!

Who is it for?

This powerful blend is suitable to consume from menache to menopause.

Expert formulated to support:

PMS/PMDD
Period pain
PCOS
Endometriosis
Fibroids
Fertility challenges
Libido
Heavy periods
Stress management
Hormone balance
On or recently off hormonal birth control




What's the science?

A main cause of PMS & cramps is nutrient deficiencies so giving your body a high quality boost in nutrients with a serving of Luna's Gold a day will support your moods, energy, periods & more!

Ginger
Turmeric
Maca
Pepper




How long does one packet last?

There are 30 servings in one packet of Luna's Gold designed for daily consumption to last an entire menstrual cycle.

Less than $1 a cup for healthier, happier periods!




What is your happiness guarantee:

We want you to be 100% happy with your blends, that's why we offer our 30-day happiness guarantee. If you don't love your order, let us know within 30 days of your order date and we will make it right.

When it comes to our health, improvements can take time so please allow at least 12 weeks of consistently consuming the Lunas Lattes for the herbs to build in your system and take most effect.

The only exclusions are sale/discounted items and accessories.




What are the ingredients?

Our products are made from the highest quality ingredients and using the latest science, we select the most effective and bioavailable form of every single ingredient to ensure the best results for great value.

Certified Organic ingredients
No sweeteners, artificial colors, flavors or preservatives
No GMOs, herbicides or pesticides
Vegan
Caffeine-free
Gluten-Free
Nut & soy free
Less than $1 per cup

Turmeric (8% curcumin), maca, shatavari, cinnamon, ginger, vanilla bean, pepper.

Clean. Comprehensive. Made with care.




Are the products safe to use whilst pregnant / breastfeeding?

Some of the ingredients within this blend have not been proven safe to consume whilst pregnant.

Please consult your healthcare provider before consuming any Luna's Latte whilst pregnant or breastfeeding.



Free Shipping

Australian Orders

Over $59.00

Customer Support

We're Here To

Support You

Happiness Guarantee

Quick Delivery