Luna's Gold Latte
Free shipping on all AUS orders over $59.00
Say hello to your new favourite, go-to brew! Bring balance to your cycle and help combat PMS and cramps with a daily Luna's Gold Latte.

This practitioner formulated, science-led formula is a delicious blend of certified organic adaptogenic herbs and superfood spices which work together to support healthy hormone balance, boost energy, moods and have you feeling your best every day of the month.

Enjoy a Luna's Gold a day to keep the PMS and cramps away - 3 months of consistent use is recommended for full effects to take place.


Practitioner Formulated

100% Natural

Certificated Organic

Proven Support
Designed to be consumed every day of the month! You can enjoy Luna's Gold as a hot or iced latte, in a smoothie or you can even do a Luna's Gold shot in a little warm water!

To make the perfect Luna's Gold Latte, in a saucepan combine 1-2 teaspoons with 1 cup of hot nut milk, add 1 teaspoon of coconut oil or ghee and sweeten with honey or maple syrup. Heat, then blend to create a froth, smooth Luna's Gold Latte.

Ingredients:

All ingredients are certified organic.

High grade turmeric powder (8% curcumin), maca root, shatavari, ginger, cinnamon, vanilla, black pepper
Proudly formulated and manufactured in Australia. We source only the finest quality local and imported ingredients from our trusted suppliers.
No added gluten, egg, dairy, lactose, soy, sugar or nuts. No artificial flavours, colours, preservatives or sweeteners.
My Moonbox comes with a 100% happiness guarantee when you purchase the PMS & Cramps bundle and commit to daily implementation and support for 3 months. If you do the 3-step daily routine and implement the Masterclass strategies for 3 months and don't experience improvements in your menstrual health we will issue you a full refund.

Why 3 months? Because this is the time it takes to reset your hormones and lay foundations for real, lasting improvements in your menstrual health to take place. There is no such thing as a quick fix when it comes to your periods. It's a life-long partnership!

How it helps you
Mood swings, cramps, low energy, no libido? We hear you. These symptoms are common, but not a normal or inevitable part of your period. Thanks to Lunas Gold, that time of the month doesn't have to be something you dread.

A holistic approach is key. Consuming Luna's Gold as part of your daily ritual whilst also addressing certain dietary & lifestyle factors that impact hormonal health is going to set the strongest foundations for experiencing healthier, happier periods.
What's Inside?
Organic Maca Root

An adaptogenic herb, best known for improving PMS, supporting energy & better moods. It also supports your whole endocrine system, helping to regulate the body's response to stress.

Organic Shatavari

An adaptogenic powerhouse traditionally used as an overall supportive female reproductive tonic, supporting menstrual health and hormonal changes.

Organic Turmeric

Well-studied for its anti-inflammatory properties and is proven beneficial for women with PMS, depression, cramps, anxiety & endometriosis.
Full Ingredient Glossary
Turmeric (Curcuma longa) 8% curcumin

We source the highest grade turmeric containing 8% curcumin compared to the average 3% from regular store bought turmeric. Curcumin is the compound in turmeric with the anti-inflammatory properties that are known to help with pain relief, gastrointestinal issues, fibroids, endometriosis, PCOS and PMS.

Maca (Lepidium mayenii)

Maca root is an adaptogen best known for enhancing libido, energy & moods. Adaptogens supports your whole endocrine system to produce the amounts of hormones that you need and help your body "adapt" to stress & stop the symptoms.

Shatavari (Asparagus racemosa)

Shatavari is an adaptogenic powerhouse traditionally used as a female reproductive system tonic, supporting fertility, the menstrual cycle, and hormonal changes.

Cinnamon (Cinnamomum zeylanicum)

Shown in studies to have significant effect in the reduction of menstrual pain, heavy bleeding and nausea.

Ginger (Zingiber officinale)

Studies published in recent years suggest that ginger may be helpful for relief of period pain, finding it more effective than nonsteroidal anti-inflammatory drugs. In addition, there's evidence that ginger may help reduce heavy menstrual bleeding.

Vanilla (Vanilla plantifolia)

Pure unadulterated organic vanilla bean powder. Delicious and a nutritional powerhouse rich in magnesium, potassium and calcium.
Save on the PMS & Cramps Bundle
Save 10% on the ultimate PMS & Cramps bundle. Everything you need to take control of your menstrual health and end monthly suffering.
Get your Bundle
"Since using Luna's Gold I have no period pain, my cycle is now like clock work & my energy levels are outstanding"
"I have definitely noticed a reduction in my PMS symptoms."
"I have used it everyday for a while and my PMS has improved drastically"
"This latte is the most amazing product! I no longer need painkillers during my cycle & it has significantly helped fix my hormonal imbalance!"
Frequently Asked Questions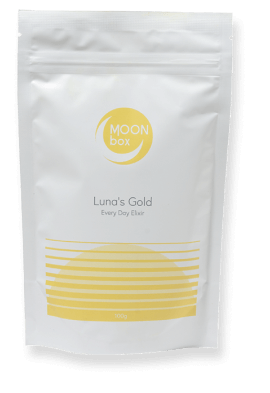 Who is Luna's Gold for?

Luna's Gold has been specifically formulated to support hormone balance and healthier menstrual cycles.

Luna's Gold supports:

- PMS/PMDD

- Period pain and cramps

- Breast tenderness

- Hormonal acne

- Mood swings

- Endometriosis / adenomyosis

- PCOS

- Fibroids

- Fertility challenges

- If you are on or recently off hormonal birth control




How frequently should I consume Luna's Gold?

We recommend drinking 1-2 cups of Luna's Gold every day of the month.

Your hormones love consistency, and the herbs & adaptogens in this blend take up to 3 menstrual cycles (around 12 weeks) to build up and work on the body. However many of our customers experience improvements within their first cycle.




What are the best ways to incorporate Luna's Gold into my daily routine?

Enjoy Luna's Gold as a hot or iced latte any time of day. Or add into your smoothies, breakfast oats, eggs, baked goods or curries!




Head over to our recipe section for more inspiration.




How long does one packet last?

There are 30 servings in one packet of Luna's Gold designed for daily consumption to last one menstrual cycle.



What are adaptogenic herbs?

The herbs used in our Luna's Elixirs contain properties that are defined as 'adaptogenic'. Adaptogens are remarkable substances that have been known over centuries of use to help the human body adapt to stress, support normal metabolic processes, and restore balance. They increase the body's resistance to physical, biological, emotional, and environmental stressors and promote normal physiologic function.




Adaptogenic herbs have been found to balance the body's energies, endocrine hormones, modulate the immune system and allow the body to maintain optimal health. We all deal with stress every day, and our bodies strive to adapt and keep balanced and healthy. It's very important to learn healthy stress reduction practices to maintain balance to lead a long healthy life. We can use adaptogenic herbs as tools to help combat our daily stresses and stay grounded.




What does Luna's Gold taste like?

There's a reason Luna's Gold is our best-seller. It's DELICIOUS!




Its blend of high grade turmeric with maca & shatavari give it an earthy, sweet, caramel, malt like flavour. Even those who don't like turmeric say they LOVE Lunas Gold.




When should I expect to experience results?

Everyone & every menstrual cycle is different.




Some of the benefits are immediate, whilst others take effect and are maximized with consistent use over the long-term.




Rebalancing hormones takes a minimum of 100 days (around 3 menstrual cycles). So with consistent consumption you should continue to experience positive changes in your moods, energy and periods.




For greatest improvements use Luna's Gold in addition to the dietary & lifestyle practices outlined in our PMS & Cramps Masterclass.

Is Luna's Gold safe whilst trying to conceive, pregnant or breastfeeding?

Traditionally the ingredients used in Lunas Gold are consumed during pregnancy and breastfeeding. However, there are no clinical studies that currently evaluate the safety of the ingredients maca or shatavari during pregnancy as with many natural remedies, so we advise you to check with your healthcare professional before consuming Lunas Gold while pregnant or breastfeeding.

Is Luna's Gold gluten free, sugar free & Vegan?

Luna's Gold is gluten free, sugar free, vegan, paleo.
Better Period. Money Back Guarantee.
Better Period.
Money Back Guarantee.
Take the Period Quiz
Take the Period Quiz
Free Shipping

Australian Orders

Over $59.00

Customer Support

We're Here To

Support You

Happiness Guarantee

Quick Delivery