Half Moon Detox Tea
Free shipping on all AUS orders over $59.00
Enhance detoxification from within.

This is a powerful detox tea for fighting PMS, formulated with your liver in mind. Supporting your liver helps to cleanse your body of excess estrogen and toxins. In turn, this can have a clarifying effect on cramps and other PMS-related symptoms.

Enjoy regularly throughout the month for most cycle benefits.


Serving Size: 30x Serves
Practitioner Formulated

100% Natural

Certificated Organic

Proven Support
Designed to be consumed every day of the month! You can enjoy Half Moon Tea as a hot or iced. To make the perfect Half Moon Tea, steep 1-2 tsp of tea in a cup (240ml) of boiling water for 3-5 minutes, or longer for a more potent infusion. Consume every day of the month for most cycle improvements.. Proudly formulated and manufactured in Australia with certified organic ingredients. We source only the finest quality local and imported ingredients from our trusted suppliers. No added gluten, egg, dairy, lactose, soy, sugar or nuts. No artificial flavours, colours, preservatives or sweeteners.
My Moonbox comes with a 100% happiness guarantee when you purchase the PMS & Cramps bundle and commit to daily implementation and support for 3 months. If you do the 3-step daily routine and implement the Masterclass strategies for 3 months and don't experience improvements in your menstrual health we will issue you a full refund. Why 3 months? Because this is the time it takes to reset your hormones and lay foundations for real, lasting improvements in your menstrual health to take place. There is no such thing as a quick fix when it comes to your periods. It's a life-long partnership!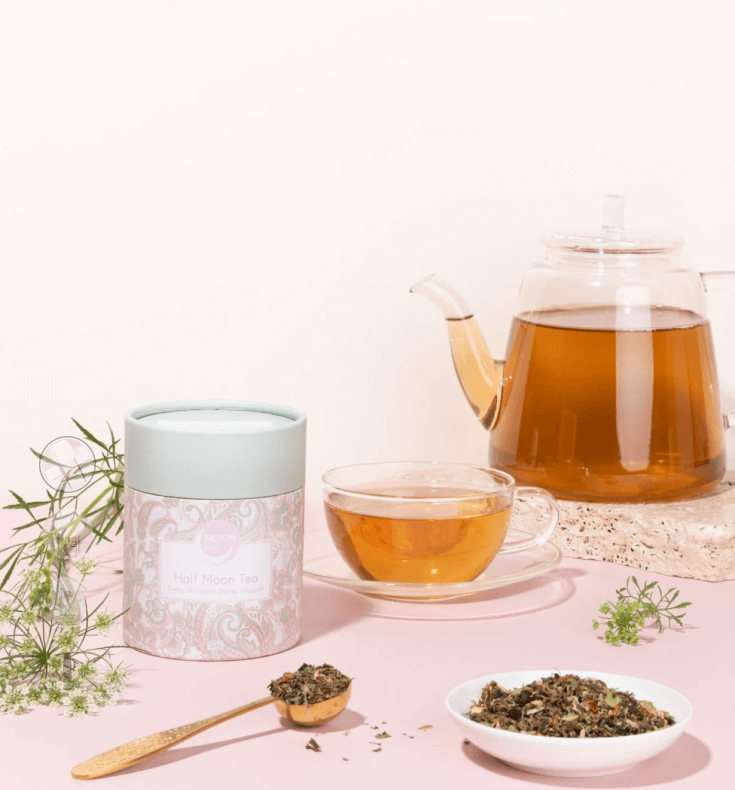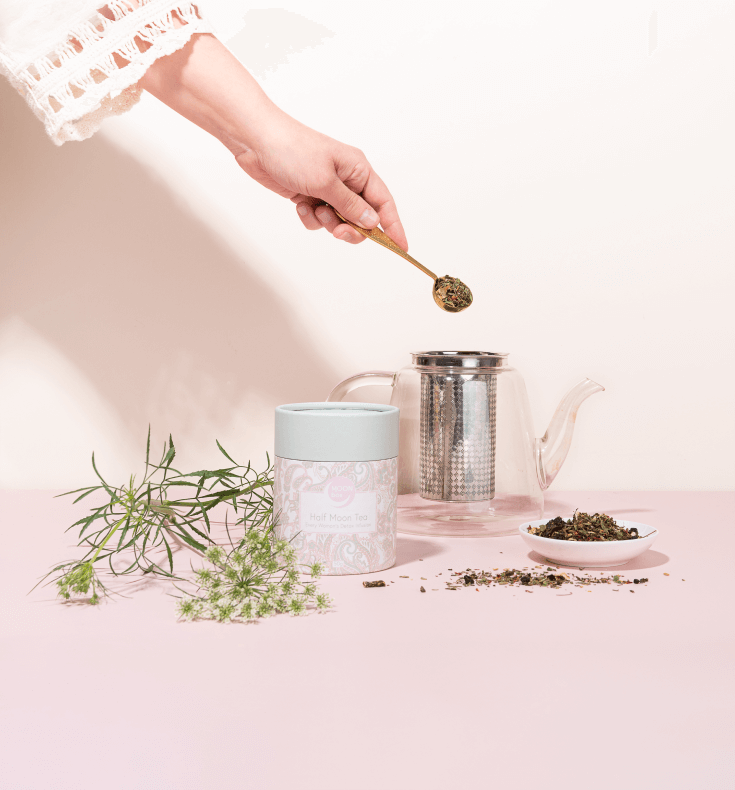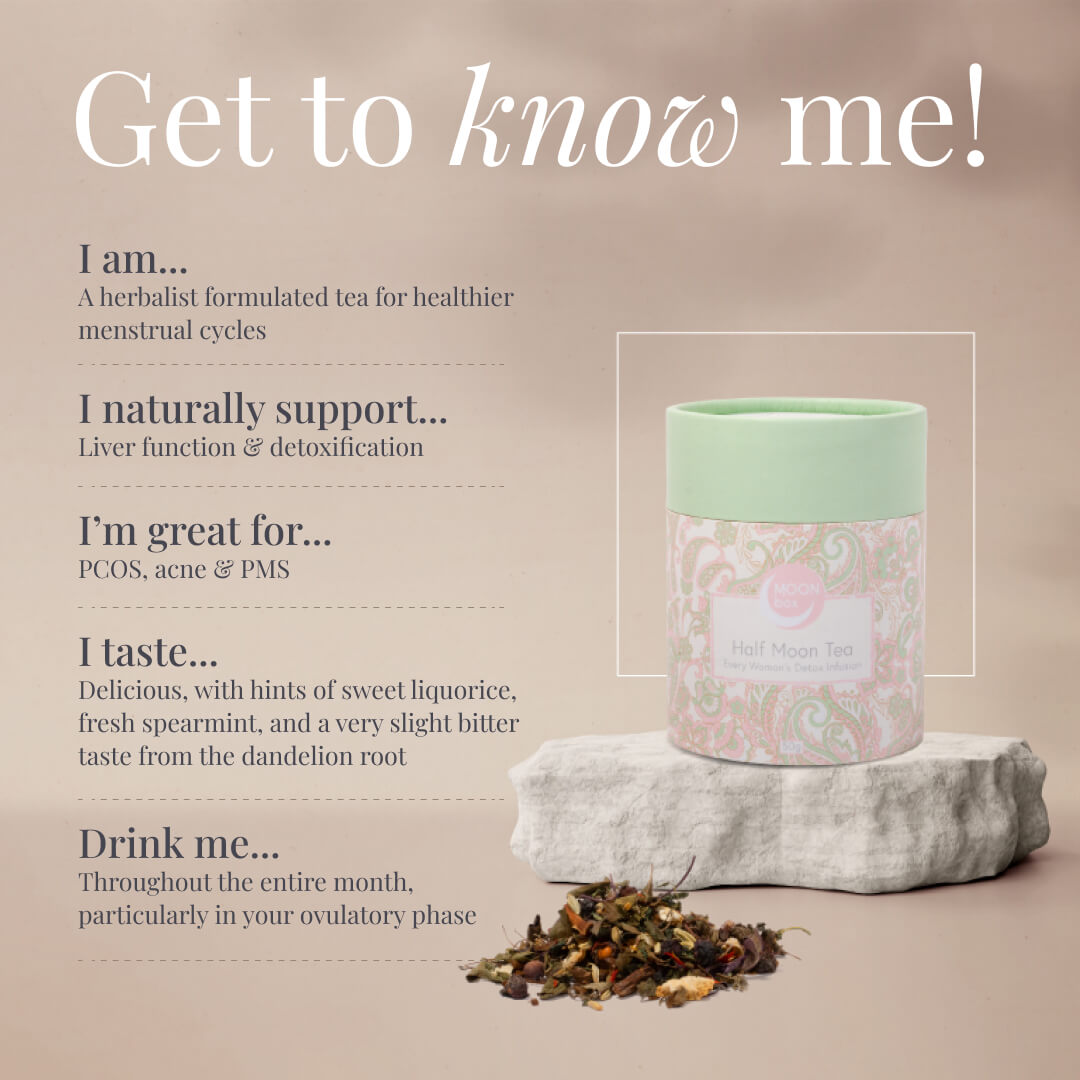 How it helps you
Mood swings, breast tenderness, acne, bloating? We hear you. These symptoms are common, but not a normal or inevitable part of your period. Thanks to Half Moon Tea, that time of the month doesn't have to be something you dread.

A holistic approach is key. Consuming Half Moon Tea as part of your daily ritual whilst also addressing certain dietary & lifestyle factors that impact hormonal health is going to set the strongest foundations for experiencing healthier, happier periods.
What's Inside?
Organic Dandelion Root

Known for its ability to support detoxification, liver function and blood sugar balance.

Organic Shisandra Berry

A revered and nourishing adaptogen herbs known to balance the nervous system.

Organic Fennel Seed

Helps smooth muscles of the gastrointestinal system, reduce bloating and cramps.
Full Ingredient Glossary
Dandelion Root

Known for its ability to support detoxification, liver function and blood sugar balance.

Fennel Seed

According to herbalists, fennel seed is an effective aid to digestion, helping to smooth muscles of the gastrointestinal system, reduce bloating and cramps.

Lemon Peel

Contains a list of vitamins, minerals and fibre like calcium, potassium and Vitamin C, which gives your body a nutritional boost.

Schisandra Berry

One of the most revered and nourishing adaptogen herbs known to balance the nervous system, enhance physical radiance, boost sexual desire and support all five major organs in the body.

Tulsi

Dating back over 3,000 years ago to ancient India, tulsi has been used traditionally for assisting with anxiety, fatigue and acne.

Spearmint

Spearmint tea may have beneficial effects on hormones in women, including decreasing male hormones like testosterone and increasing hormones necessary for ovulation.

Bilberry

Related to blueberries, Bilberry is known for its high antioxidant content.
Backed by Science, Design for You
Our products are made from the highest quality ingredients and using the latest science, we select the most effective and bioavailable form of every single ingredient to ensure the best results for great value.
PRACTITIONER FORMULATED

CERTIFIED ORGANIC

NO ARTIFICIAL INGREDIENTS

NO GMOS OR PRESERVITVES

AUSTRALIAN MADE
"Super delish and helps minimise cravings and bloaty days. Ah-mazing!"
Frequently Asked Questions
Who is Half Moon Tea for?

Half Moon Tea is designed to support:

- PMS/PMDD

- Hormonal Acne

- Cyclical breast tenderness

- Digestive upset & bloating

- For women on or recently off hormonal birth control to support detox of synthetic hormones

Is Half Moon Tea Certified Organic?

All ingredients used in Half Moon Tea are certified organic.




We have sourced the most natural, highest quality ingredients in line with our belief that optimal menstrual health & fertility is reliant on the quality and purity of what we put into our bodies.




Our ingredients are sourced directly from their country of origin and are certified organic, not sprayed with any chemicals. We will continue to source only the purest, organic ingredients.

How long does one cylinder of Half Moon Tea last?

50g of Half Moon Tea contains 30 servings. One serving of Half Moon Tea can be used for up to 3 infusions as the loose leaves can be used repeatedly to reap benefits and until the flavour is no more.

What does it taste like?

DELICIOUS! Half Moon Tea has hints of sweet liquorice, fresh spearmint, and a very slight bitter taste from the dandelion root.

Are herbal teas safe to drink whilst pregnant or breastfeeding?

We recommend speaking with your healthcare professional before consuming Half Moon Tea whilst pregnant or breastfeeding.

How often do I drink Half Moon Tea?

For PMS, cramps & hormonal acne we recommend daily consumption of Half Moon Tea (1-2 cups) for a minimum of 3 menstrual cycles, for maximised results.

For general cycle support, consume Half Moon Tea around ovulation to support healthy detox of estrogen, or as desired throughout the month.

Is it loose leaf or in tea bags?

All of our teas are loose-leaf (not in a tea bag). We recommend brewing tea in a teapot or tea infuser. Loose-leaf tea allows the water to flow through the leaves and extract a wide range of vitamins, minerals, flavours and aromas from the leaves compared to regular tea bags.
Better Period. Money Back Guarantee.
Better Period.
Money Back Guarantee.
Take the Period Quiz
Take the Period Quiz
Free Shipping

Australian Orders

Over $59.00

Customer Support

We're Here To

Support You

Happiness Guarantee

Quick Delivery