Latte Milk Frother
Free shipping on all AUS orders over $59.00
Love creamy, frothy lattes from your favourite coffee shop but don't want to pay expensive prices?
Create your own cafe-style latte at home with this amazing Milk Frother! Perfect for creating delicious drinks in minutes, this innovative product will take your coffee experience to the next level. With its unique design, it can whip up hot or cold milk into a light, creamy and smooth texture just by pressing a button. It is even easy to clean and dishwasher safe!
So go ahead and enjoy your very own cafe-style latte in the comfort of your home. With this Milk Frother, you can now make delicious lattes without breaking the bank!
Powerful Motor

Sleek Design

Lightweight Body

Portable
Channel your inner barista and whip your Superfood Lattes into shape with our milk frother. How To Froth: - Fill your glass or mug 1/3 full of hot milk & dip the frother head half way into the milk before turning on - Press and hold the button at the top of the frother to begin whisking - Continue to raise & lower the frother for 30-45 seconds until frothy - Turn frother off before removing from liquid
- Perfect for frothing Luna's Lattes - Lightweight & portable - Battery operated - Blends powders in seconds - Suitable for all liquids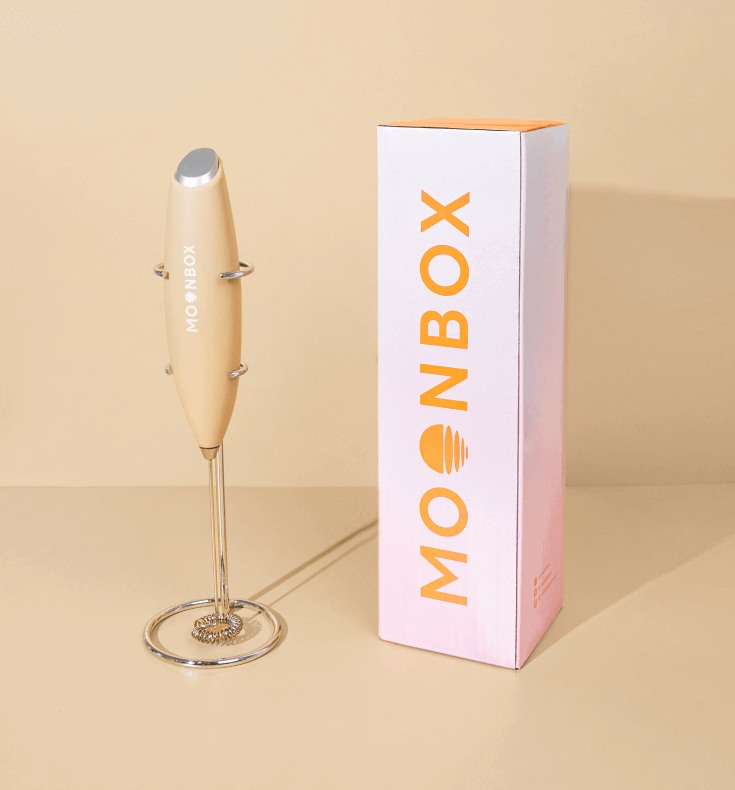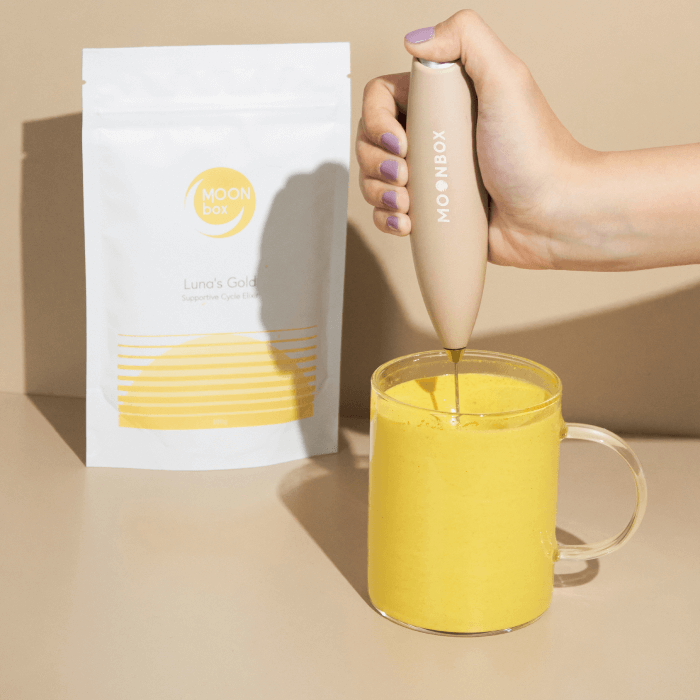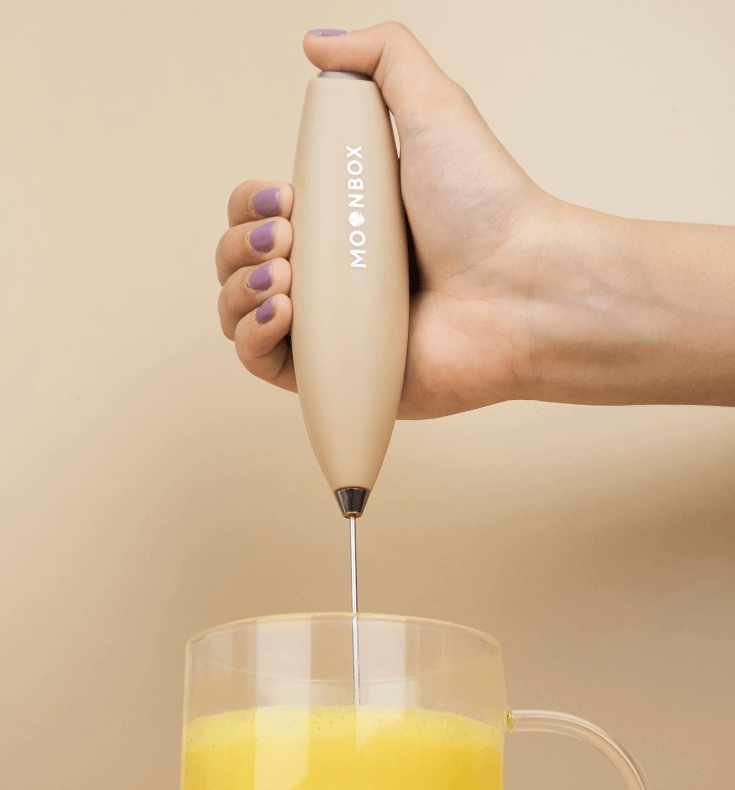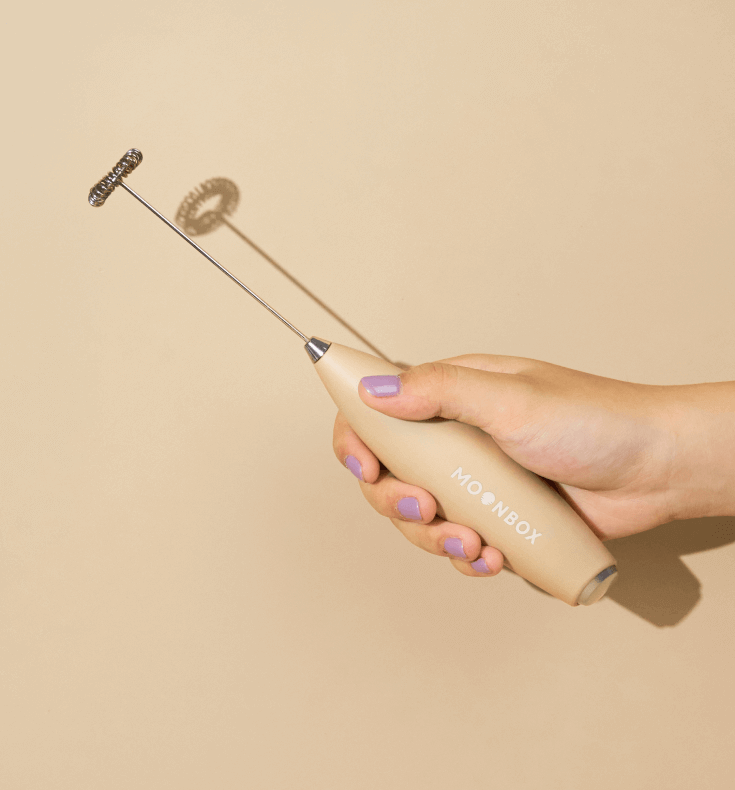 Why you'll love it
IT'S SLEEK

This Milk Frother gives you the perfect blend of style and functionality, with its modern and slimline design

IT'S POWERFUL

Enjoy a smooth, creamy froth thanks to powerful motor that spins quickly and quietly for maximum convenience

IT'S LIGHTWEIGHT

Easily portable and lightweight, this Milk Frother is perfect for taking with you wherever you go! Enjoy a delicious coffee or latte at home or on the go.
"I'm so impressed with my My Moonbox Milk Frother! It's made my morning routine so much easier and more enjoyable"
"Almost daily use and this period is the best in years. I am committed now to having the Luna Latte every day. "
Frequently Asked Questions
Are milk frothers easy to clean?

Yes, our milk frother are very easy to clean. The My Moonbox models can be easily disassembled and washed in warm soapy water - It is important to clean the frothing wand or disc after every use to prevent the build-up of milk residue, which can impact the performance of the frother.

How does a milk frother work?

A milk frother works by rapidly spinning a small whisk or frothing disc at high speed in order to create small bubbles in milk or cream. This creates a light, creamy foam on the top of the milk, which is perfect for adding to hot drinks.




What are the benefits of using a milk frother?

There are many benefits to using a portable milk frother. It is a simple and easy way to create frothy, creamy milk foam at home without the need for expensive equipment or specialist knowledge. It is also quick to use, and can create foam in just a few seconds, making it perfect for busy mornings or late-night drinks.




Can I use a portable milk frother for non-dairy milks?

Yes, our milk frothers can be used with non-dairy milks such as soy, almond, or oat milk. However, it is important to note that different types of milk may require different techniques or settings in order to create the best foam. It is recommended to experiment with different milks and settings to find the perfect texture and consistency.




How long does a milk frother last?

The lifespan of a portable milk frother depends on the frequency of use. On average, My Moonbox frothers can last for several years with proper care and maintenance.

How much milk should I use with Milk Frother?

Using the right amount of milk is important in order to get perfect foam and texture with the My Moonbox Milk Frother.

It is recommended to use between 6-8 ounces of milk for results, however you can use more or less depending on your preference and desired consistency of the foam.

If you are using a non-dairy milk, it is important to take into account the thickness of the milk and adjust accordingly. Experimenting with different amounts of milk to find the optimal result can help you master the art of frothing with your My Moonbox Milk Frother.

How long does it take to froth milk?

The My Moonbox Milk Frother can froth milk in as little as 15 seconds, allowing you to quickly and easily make cafe-quality lattes at home. It takes a few simple steps to use the My Moonbox Milk Frother - simply place the frothing disc into your milk, press the power button, and watch as it heats up and creates a light and creamy foam in just seconds.

Does Milk Frother come with batteries?

The My Moonbox Milk Frother does not come with batteries and you will need to provide your own in order to use it. It is important to note that the Milk Frother uses 2AA batteries which are not included, so be sure to purchase these before attempting to use your frother.
Free Shipping

Australian Orders

Over $59.00

Customer Support

We're Here To

Support You

Happiness Guarantee

Quick Delivery